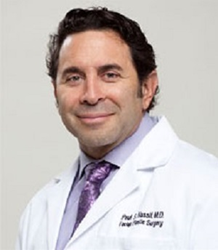 Beverly Hills, CA (PRWEB) November 18, 2016
Beverly Hills facial plastic surgeon, Dr. Paul Nassif, announces that he is now offering multiple eyelid surgery options. Blepharoplasty, plastic surgery to address the eyelids, is an increasingly popular cosmetic procedure among patients in the United States. Many types of defects can be corrected this way, and specific types of blepharoplasty can even be performed to change the form of the eyelids to the type that patients would prefer. With the variety of eyelid surgery choices provided by Dr. Nassif, more patients can have eyelids that make them feel confident in their appearance.
Although eyelid surgery can be used to achieve many effects and correct many deformities, one of the most common modern uses for blepharoplasty is to create epicanthic folds in persons of Asian ethnicity. This specialized procedure, known as Asian eyelid surgery, is offered by Dr. Nassif. Patients receiving this procedure can achieve the results they desire while retaining a natural look all their own. Also called double eyelid surgery, this is an outpatient procedure that produces impressive changes with minimal recovery required. Eyelid surgery cost, like that of other plastic surgery procedures, depends on the patient and their goals.
Dr. Nassif provides a complete range of facial plastic surgery treatments at his office. These include face lift, a procedure that addresses signs of aging throughout the face, as well as several more specialized options. For example, patients can receive lip enhancement and augmentation to change the shape and size of their lips. Neck, brow, and cheek lifts are a few options for removing wrinkles and sagging from the face and surrounding area. Rhinoplasty, including ethnic and revision rhinoplasties, is also provided by Dr. Nassif.
Dr. Paul Nassif is known for his expertise in facelifts and revision rhinoplasty. An innovator of new treatments, such as a procedure dubbed the "anti-gravity facelift," Dr. Nassif focuses on giving patients the results they seek with minimal or absent scarring. Invasive procedures are performed so that any required incisions are located in discreet locations, ensuring that results look as natural as possible. Dr. Nassif works actively with several charities, providing his services to victims of domestic violence and others in need.