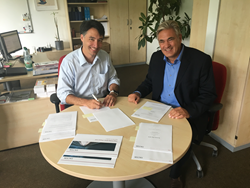 The collaboration brings significant added value to both companies through the exploitation of synergies.
Troy, Michigan (PRWEB) September 28, 2017
FACTON, the leading provider of Enterprise Product Costing (EPC) solutions for the automotive, aerospace, mechanical engineering and electronics industries, and ICP Solution, a specialist for PLM project services for industrial companies, have entered into a partnership. The first phase will focus on the marketing of the new FACTON EPC Design Costing software solution, which enables early identification of cost drivers while taking predefined cost targets into account.
This partnership aims to improve services and thus promote long-term customer loyalty. Moreover, adding an interface between PLM and EPC systems minimizes the costing effort. "The collaboration brings significant added value to both companies through the exploitation of synergies. Ultimately, customers will benefit from a more powerful range of products and a higher level of service," says Thomas Gilgenberg, Managing Director of ICP Solution GmbH. Alexander M. Swoboda, CEO of FACTON, adds: "Interest in IT-based optimization of product costing has risen dramatically. More and more companies are realizing how important it is to influence costs where they arise – in the development phase. Our mission is to help enterprises master this challenge and we are excited to have an experienced partner like ICP Solution on our side."
Interface between PLM and EPC system minimizes costing effort
The collaboration goes deeper than sales and distribution. As an Oracle Gold Partner with the PLM product "Oracle's Agile PLM for Manufacturing (Agile e6)," ICP Solution specializes in the SME sector and has established itself throughout Europe as a PLM expert for industrial manufacturing. An interface between the PLM system and the design costing solution makes it possible to quickly and simply build the calculation structure on the basis of the engineering BOM. The required data is transferred from one system to the other at the click of a button. Costing effort is kept to a minimum since all of the relevant data is now entered into a standardized system. Consolidating multiple calculations, e.g. in Excel, is a thing of the past. This not only saves time, it also lowers vulnerability to errors. FACTON EPC Design Costing does not use complex cost accounting, thereby enabling developers and designers to create cost estimates and/or rough calculations. This is sufficient in order to create cost transparency and identify major deviations in target setting.
About FACTON
The FACTON EPC Suite is the leading Enterprise Product Costing (EPC) solution for the automotive, aerospace, mechanical engineering and electronics industries. Its specific solutions offer robust answers to the requirements of executive management and individual departments within the enterprise. FACTON EPC enables standardized, enterprise-wide costing independent of location and department for maximum product cost transparency throughout every phase of the product life cycle. Businesses accelerate their costing, achieve pinpoint cost accuracy and secure their profitability.
FACTON GmbH was founded in 1998 and has locations in Potsdam, Dresden, Stuttgart and Detroit. Hasso Plattner, founder and chairman of the supervisory board of SAP AG, has supported this innovative company since 2006. The international portfolio of customers includes Ford Motor Company, Henniges Automotive, DURA Automotive Systems, Airbus, Mahle Behr, MANN+HUMMEL, Porsche and other renowned manufacturers. http://www.facton.com/en
About ICP Solution GmbH
For many years, ICP Solution GmbH has been successful in implementing Product Lifecycle Management solutions (PLM) in the industrial sectors of manufacturing systems including engineering, mechanical and plant engineering, automotive supply industry and automation engineering.
ICP Solution is an Oracle Gold Partner and a specialized partner for PLM solutions with "Oracle Agile PLM for Manufacturing (Agile e6)" for medium-sized businesses and oversees more than 100 companies in various industries. ICP stands for Industry Competence Partners and advises customers organizationally and technologically on the optimal use and development of PLM solutions. For more information visit http://www.icpsolution.com.
***
FACTON Press Contact
Valerie Valentine | Marketing Manager | FACTON Inc. | Phone: +1 (248) 761-2255 | valerie.valentine[at]facton.com | http://www.facton.com/en