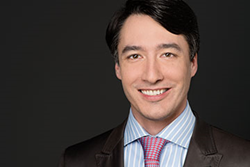 Troy, Michigan (PRWEB) October 20, 2017
FACTON, the leader in Enterprise Product Costing (EPC), today announced that Chief Executive Officer Alexander M. Swoboda will present at the Automotive Alley "Integr8™" conference on November 9 in Detroit. The Integr8™ event is a global Industry 4.0 conference focused on the eight technologies that are disrupting the manufacturing industry. FACTON is one of the sponsors of the event.
Swoboda will participate in the panel discussion during the conference, in the Artificial Intelligence/Big Data section of the conference. The sessions will focus on the use of manufacturing data in costing, supplier-OEM relationships, and business improvement.
"As of today product costing is a manual process. In many cases not even supported by integrated software solutions," said Swoboda. "Many companies struggle to digitize their costing functions and transform them towards collaborative costing within their organization, with their suppliers and customers. To us it is clear, however, that further transformations are on the horizon. One of them is automated costing in the cloud leveraging big data and AI."
More information and registration for the event is available at https://automationalley.com/Events/Integr8.aspx
About FACTON
The FACTON EPC Suite is the leading Enterprise Product Costing (EPC) solution for the automotive, aerospace, mechanical engineering and electronics industries. Its specific solutions offer robust answers to the requirements of executive management and individual departments within the enterprise. FACTON EPC enables standardized, enterprise-wide costing independent of location and department for maximum product cost transparency throughout every phase of the product life cycle. Businesses accelerate their costing, achieve pinpoint cost accuracy and secure their profitability.
FACTON was founded in 1998 and has locations in Potsdam, Dresden, Stuttgart and Detroit. Hasso Plattner, founder and chairman of the supervisory board of SAP AG, has supported this innovative company since 2006. The international portfolio of customers includes Ford Motor Company, Henniges Automotive, Fisher & Company, DURA Automotive Systems, Airbus, Mahle Behr, MANN+HUMMEL, Porsche and other renowned manufacturers.
###
Press Contact:
Valerie Valentine | Marketing Manager | FACTON Inc. | Phone: +1 (248) 761-2255 | valerie.valentine[at]facton.com | http://www.facton.com/en