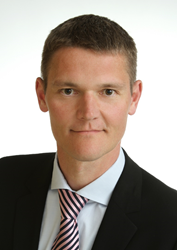 Troy, Michigan (PRWEB) June 29, 2017
FACTON, the leader in Enterprise Product Costing (EPC), has promoted Ruediger Stern to the position of President, North America. Stern joined FACTON in 2015, and has been serving as Vice President Professional Services. He will split his time between the company's Potsdam (Germany) headquarters and the Troy, Michigan office that serves as the company's North American headquarters.
"While the NA auto market is growing, competition remains fierce. Only companies that can manage costs thoroughly are competitive enough to benefit from growth opportunities," says FACTON Chairman and CEO Alexander M. Swoboda. "That renewed focus on costs and profitability is leading automotive OEMs and Tier 1 suppliers to pay special attention to their costing mechanisms - creating the perfect opportunity for FACTON. And with his years of experience in the automotive industry, his combination of engineering and financial skills, and his background as a business transformation consultant, Ruediger is the perfect executive to help us addressing this opportunity."
Stern joined FACTON from Accenture, where he had worked for 14 years – the last ten in leading positions with responsibility for key accounts and major projects in the field of product lifecycle management (PLM) from strategy to system integration. Stern has also worked as a development engineer in the automotive and home appliance industries. Stern holds a degree in engineering physics from the HTW Berlin University of Applied Sciences.
The FACTON EPC Suite
The FACTON EPC Suite consists of specific solutions that address the product costing requirements of company departments and divisions – from top management, controlling and production to development, purchasing and sales.
About FACTON
The FACTON EPC Suite is the leading Enterprise Product Costing (EPC) solution for the automotive, aerospace, mechanical engineering and electronics industries. Its specific solutions offer robust answers to the requirements of executive management and individual departments within the enterprise. FACTON EPC enables standardized, enterprise-wide costing independent of location and department for maximum product cost transparency throughout every phase of the product life cycle. Businesses accelerate their costing, achieve pinpoint cost accuracy and secure their profitability.
FACTON was founded in 1998 and has locations in Potsdam, Dresden, Stuttgart and Detroit. Hasso Plattner, founder and chairman of the supervisory board of SAP AG, has supported this innovative company since 2006. The international portfolio of customers includes Ford Motor Company, Henniges Automotive, DURA Automotive Systems, Airbus, Mahle Behr, MANN+HUMMEL, Porsche and other renowned manufacturers.
***
Press Contact
Valerie Valentine | Marketing Manager | FACTON Inc. | Phone: +1 (248) 761-2255 | valerie.valentine[at]facton.com | http://www.facton.com/en