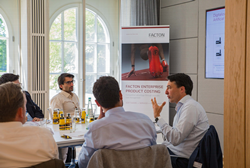 Disruptive technologies will not only have an impact on production; they will also lead to changes in virtually every area of business. Therefore, discussions currently center around ensuring profitability and product costs. We believe that the industry must work together to master these challenges.
TROY, Mich. (PRWEB) April 09, 2019
Software firm FACTON conducted the inaugural "FACTON Executive Round Table" series last year in Europe. The international event brings together top experts from business and research to discuss the future of active product costing and develop collaborative strategies. This year's event will take place on August 6th as part of the "Power Lunch" at the Center for Automotive Research Management Briefing Seminars (CAR MBS) conference in Traverse City, MI. A panel of top experts will discuss the impact that disruptive technologies and new mobility concepts will have on product costs and supply business and how to respond to these changes while keeping the industry competitive. This year's roundtable event includes Alexander M. Swoboda, FACTON CEO, Ruediger Stern, FACTON President, Larry Williams, CEO of Henniges Automotive and other CEOs and senior executives from the automotive industry. Anyone that attends CAR MBS can register to join the "Power Lunch".
Connected, autonomous, shared and electric mobility are dramatically altering the automotive landscape. Profitability expectations, new manufacturing technologies, the Internet of Things, blockchain and artificial intelligence are causing uncertainty among many OEMs and tier 1 suppliers. Alexander M. Swoboda comments, "These new, disruptive technologies will not only have an impact on production; they will also lead to sweeping changes in virtually every area of business. Therefore, these discussions currently center around ensuring profitability and, consequently, product costs. We believe that the industry must work together to master these challenges, which is why we promote a regular, personal exchange of information and ideas."
FACTON Executive Round Table "AI for Predictive Costing" – 2018 in review
The first FACTON Executive Round Table took place as part of the "AI for Predictive Costing" initiative in June 2018 in Potsdam. 20 experts from industry and research discussed the use of artificial intelligence in product costing. Participants talked about challenges and their visions of the future in addition to application possibilities feasible in the medium term. For more details on the event, please visit: https://www.facton.com/news/ai-for-predictive-costing