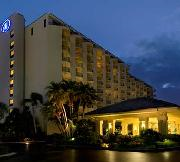 Each presenter is a skilled lecturer and teacher and all are experts in their fields. Primary care practitioners attending will learn many new pearls to bring back to their office. --Barbara Lyons, VP Education CEC
Palm Coast, Florida (PRWEB) October 16, 2014
Continuing Education Company (CEC) has just released the faculty listing for the 3rd Annual Essentials in Primary Care Winter CME (Continuing Medical Education) Conference . The conference will be held at the Marco Island Hilton Resort and Spa February 2-6, 2015. The faculty includes the following leading expert presenters:
John B. Buse, MD, PhD
Professor, Medicine
Director, Diabetes Care Center
Chief, Division of Endocrinology
Executive Associate Dean, Clinical Research
University of North Carolina School of Medicine
Chapel Hill, NC
Sergio Fazio, MD, PhD
William and Sonja Connor Chair of Preventive Cardiology
Professor of Medicine
Director of Preventive Cardiology
Knight Cardiovascular Institute
Oregon Health and Science University
Portland, Oregon
Alan S. Maisel, MD
Director, Coronary Care Unit and Heart Failure Program,
VA San Diego Healthcare System
Professor of Medicine
University of California, San Diego
VMRF Research Scientist
David M. Plourd, MD, FACOG
Clinical Instructor
Department of OB/GYN
University of California San Diego
Obstetric Hospitalist
Scripps Encinitas
San Diego, CA
Ramon L Rodriguez Cruz, MD
Associate Professor of Neurology
Director of Clinical Services
Director, Clinical Trials Center
Center for Movement Disorders and Neurorestoration
University of Florida, College of Medicine
Gainesville, FL
Andrew W Urban, MD
Chief, National Education Programs
Office of Continuing Professional Development
Clinical Associate Professor of Medicine
Section of Infectious Diseases
University of Wisconsin School of Medicine and Public Health
Madison, Wisconsin
Richard P. Usatine, MD
Professor of Family and Community Medicine
Professor of Dermatology and Medicine
University of Texas Health Science Center San Antonio
Medical Director, Skin Clinic, University Health System
San Antonio, Texas
William Vollmar, MD, CAQSM
Chief, Sports Medicine
Family Practice Residency Program
Department of Family Practice
Lancaster General Hospital
Lancaster, PA
Dana Wallace, MD FAAAAI
Assistant Clinical Professor
Nova Southeastern University
Davie, FL
Florida Atlantic University
Boca Raton, FL
Director, Florida Center for Allergy & Asthma Care
Emerald Hills, FL
C. Wayne Weart, PharmD
Professor, Department of Pharmacy and Clinical Sciences,
Professor of Family Medicine,
South Carolina College of Pharmacy
Medical University of South Carolina
Charleston, SC
According to Barbara Lyons, VP of Education, "Each presenter is a skilled lecturer and teacher and all are experts in their fields. Primary care practitioners attending will learn many new pearls to bring back to their office."
Continuing Education Company, Inc. (CEC) is an independent, non-profit, 501 (c)(3) continuing medical education organization. They have been developing and presenting continuing medical education programs for over 23 years.Their mission is to develop and provide educational opportunities to improve the skills and knowledge of medical and healthcare professionals. They accomplish this mission by offering American Academy of Family Physicians (AAFP) accredited CME lectures, symposia, and conferences.
Educational activities are developed with the guidance of Continuing Education Company's Curriculum Advisory Committee. The committee, lead by their on-staff Medical Director is comprised of physicians, pharmacists, educators who have extensive clinical and CME experience.
The mission of Continuing Education Company, Inc. (CEC) is to improve public health by developing and providing educational opportunities to advance the skills and knowledge of physicians and other healthcare professionals. This mission is accomplished by assisting healthcare professionals in assessing their educational needs and providing them with evidence-based education which meet those needs.
VIsit their website at http://www.cmemeeting.org for more information on their educational conferences.