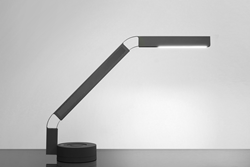 We look forward to bringing our vision directly to design lovers everywhere.
SF DESIGN WEEK, San Francisco, CA (PRWEB) June 04, 2015
Fade Studio, a new San Francisco based studio, announced today their innovative Fade Task Light. The studio aims to marry honest industrial design with the latest in LED lighting technology and then ship products directly to the consumer.
Fade Studios is led by award winning designers Bret Recor and Seth Murray, founders of San Francisco design agency Box Clever. The team joined with Scott Soong to lead their R&D and manufacturing arms based in Taiwan. Their goal is to create a direct to consumer model that eschews traditional retail markups and ensures a streamlined manufacturing process.
"Fade Studio was born from the realization that the lighting industry has remained stagnant," said Bret Recor, founder and lead designer. "We saw an opportunity to bring transparency to the entire process, from initial design all the way to the finished product. We look forward to bringing our vision directly to design lovers everywhere."
Their inaugural product, the Fade Task Light, will only be available for pre-order directly on the company's website at http://www.fadestudio.com The Fade Task Light MSRP is $249.99 but will available at an introductory price of $199.99 for a limited time.
ABOUT THE FADE TASK LIGHT
Flawless design and motion
A solid iron base, die cut steel and a magnetic slider hinge ensures a smooth, flexible and flawless 120 degree range of motion for the task light's arm. The light is available in 4 die cut patterns and colors- Black, Blue, Red and White.
Multiple light options
An intuitive multi slider dimmer and color temperature control allows the light output to be precisely set from multiple levels (30 – 280 lumens) of dimming and a temperature range of 2700 to 5600 K in light color.
Seamless experience
The Fade Task Light utilizes the latest in LED technology and modern functionality and design for home or office. An integrated 5-volt USB port in the base is ready to power or charge anything.
All assets can be found at https://brandfolder.com/boxclever
About Fade Studio
Fade Studio is by award winning designers Bret Recor and Seth Murray of Box Clever, and Scott Soong. With Fade, the team is bringing their collective experience to the lighting industry and offering their designs directly to those who are looking for lighting products that illuminate and inspire.