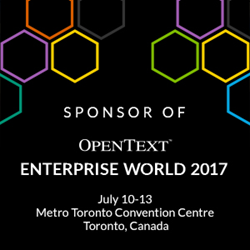 Rights Cloud™ by FADEL® plugs directly into OpenText digital asset and content management systems to give you the "rights" answer, on demand.
New York, NY (PRWEB) July 06, 2017
FADEL® today announced it is an official sponsor of the 2017 Enterprise World user conference. The annual event, now in its 19th year, will be held in Toronto, Canada at the Metro Toronto Convention Centre from July 11-13, 2017. OpenText Enterprise World will provide attendees with a comprehensive view of the digital and Artificial Intelligence (AI) trends changing businesses across the globe, and the strategies, tactics, and tools to achieve success.
Sponsors of OpenText Enterprise World 2017 host a variety of activities throughout the conference. FADEL will be showcasing its integrated solution at Booth #1116. Stop by to learn more about how with Rights Cloud™ by FADEL you can verify content rights real-time from directly within your OpenText DAM.
By partnering with OpenText, FADEL is able to bring organizations a comprehensive, simple to use rights management system that delivers the "rights" answer, on demand. Working with systems integrator and OpenText experts, CyanGate, we are able to deliver a tightly integrated solution that plugs directly into OpenText and an organization's business workflow to streamline the approval and production cycles.
"We are excited to team with OpenText and bring clients a way to support the end-to-end advertising workflow by combining asset management, rights clearance, business process management and analytics," said Tarek Fadel, Founder and CEO, FADEL. "This joint offering provides users with a powerful tool that significantly improves speed to market, delivers content reuse and empowers usage compliance."
"We are thrilled to welcome FADEL as a sponsor of this year's Enterprise World," said Adam Howatson, CMO at OpenText. "Through the support of partners such as FADEL, this year's conference will explore the future of information and the impact of next generation AI, cognitive and digital tools. OpenText is proud of its strong partnerships that offer our customers the technology and solutions that will lead them toward success."
The OpenText Global Partner Program ensures clear levels of partner support across the whole lifecycle of the customer relationship, providing a number of distinct programs, benefits and investments. As a member of the OpenText Global Partners Program, FADEL works together with OpenText to develop, sell and service solutions that offer our joint customers the tools to manage their information and gain deep business insights.
About OpenText Enterprise World
Now in its 19th year, OpenText Enterprise World provides a platform to interact and discuss the fourth industrial revolution with the organizations at the heart of it. With dedicated industry, start-up and educational tracks, the event offers attendees a comprehensive view of the digital and Artificial Intelligence (AI) trends changing businesses across the globe and the strategies, tactics, and tools to achieve success.
Attendees have an opportunity to connect with OpenText executives, industry thought leaders and hundreds of peers at the precipice of the revolution and gain the knowledge to achieve their digital future.
Visit the registration and pricing page for more information about special discounts and group passes and to register for the event. For the latest news on OpenText Enterprise World, visit the Enterprise World Buzz
About FADEL
FADEL, innovator of rights and royalty management software, has worked with some of the biggest names in media, entertainment, publishing, high-tech and advertising. By automating talent and content rights management across videos, photos, ads, music, products and brands, and streamlining the processing of licensing royalties, FADEL's cloud-based solutions have empowered businesses to significantly maximize revenues and increase process efficiencies. Founded in 2003, FADEL is headquartered in Rye, New York, and also operates offices in New York City, Los Angeles, London, and Lebanon. For more information, visit http://www.fadel.com.