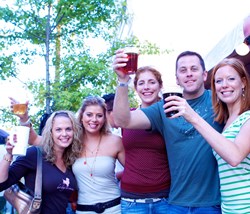 Our first annual outdoor craft beer festival is all about the beer - and we believe that we have assembled the best craft brews out there right now.
Atlanta, GA (PRWEB) September 04, 2013
The first Annual Fado Irish Pub Big Brewhaha kicks off at 2 p.m. on Saturday, September 14, 2013 and Atlanta beer lovers will bask in the hottest selection of local, regional and European craft beers. With 75-plus brews on hand, from over 15 local craft and international breweries, Fado, located in the heart of Buckhead, has pulled out all the stops so that the average beer lover to the beer connoisseur will leave not only satisfied, but blown away by the unlimited sampling event. And like any great American craft beer festival, Fado Irish Pub is offering exclusive ticketing options for beer lovers of all levels.
"At Fado, we know how to throw a good party," says Brian Russell, general manager at Fado. "We've been doing it for 17 years. But, the other thing that our customers trust us to deliver on is good beer. And our first annual outdoor craft beer festival is all about the beer—and we believe that we have assembled the best craft brews out there right now."
To start, the team assembled a top flight group of local, regional and international craft brewery sponsors* for the afternoon unlimited sampling event. At 1 p.m., doors will open early to the VIP ticket-holders to experience an exclusive sampling event of all the brands as well as a private one-hour VIP Sweetwater Brewery Rooftop Patio Takeover, where guests will have the opportunity to try five never-before-tasted cask concoctions.
At 2 p.m., the General Admission Unlimited Sampling Event kicks off and festival goers will receive a wristband and five-ounce sampling cups to maximize their four-hour beer tasting adventure. The street festival will also feature food tents with pulled pork BBQ, brats and burgers and a stage with live music kicking off at 3 p.m. The breweries are all showcasing their best brands and seasonal features to ensure that guests will enjoy a wide variety of beer styles and flavor profiles.
According to the Craft Breweries Association, "American tastes are changing and the public wants choices and flavor and diversity in the category of brands that they buy. For example, Nielsen research confirmed that beer drinkers are shifting to more robust beer styles and seasonal beer is one of the top selling craft beer categories."
Current Craft Beer Industry Facts:

Beer sales are down overall but craft beer as a category has seen double digit growth over the past three years.
Craft beer is the only category to see sales growth
Craft beer sales account for 15 percent of total beer sales.
Currently there are a total of 2,483 U.S. craft breweries and 1,600 breweries in the planning stages.
From Goose Island Harvest Ale, Shock Top Pumpkin Ale, Leinenkugel Brewing's Big Eddy Über-Oktoberfest to Ommegang Witte and Sweetwater Motorboat Seasonal, the Fado Big Brewhaha has all the essentials for the makings of a great craft beer festival.
After the sampling event ends at 6 p.m., the street party will continue well into the night with live music until 11 p.m., more beer, spirits and stein holding and brat eating contests. Advance tickets for the VIP package and the general admission sampling event go on sale August 28, 2013. Only 150 tickets are available to the public for the VIP Exclusive Sweetwater Rooftop Takeover.
*Featured Brewery Sponsors: Sweetwater Brewery, Monday Night Brewing, Boulevard Brewing, Finch's Beer Co., Fox Barrel Cider Co., Lagunitas Brewery, Jacob Leinenkugel Brewing Co., Mother Earth, New Holland Brewing, Red Hare Brewing, Shock Top, Sierra Nevada, Goose Island Beer Company, Guinness, Stella Artois
Event Details and Ticket Information
1-6 p.m.: VIP Exclusive Sweetwater Brewery Rooftop Takeover - $75*
*Includes exclusive entry at 1 p.m. and full access to sampling 75-plus beers (without the wait). The general admission craft beer sampling event begins at 2 p.m.
*Enjoy exclusive access from 2-3 p.m. to our VIP Sweetwater Rooftop Patio Takeover Event where you will sample five never-before-tasted Sweetwater cask concoctions. Participants all receive a Sweetwater t-shirt.
2-6 p.m.: General Admission Beer Sampling Event - $45*
*All access to outdoor event from 2-6 p.m. with unlimited sampling of 75-plus beers from over 15 craft breweries as well as the general admission live music festival from 6-11 p.m.
6 p.m.-11 p.m.: General Admission Live Music Street Festival - $15*
*Live music line-up until 11 p.m., including local favorites Desire, the greatest U2 cover band in the world headlining at 9 p.m. A stein holding contest and brat eating contest from 8-9 p.m.
11 p.m. - close - Street Festival ends and a proper pub party continues inside with the Fado DJ and late night drink specials on offer http://www.fadoirishpub.com/atlanta/main-menu.
Fado Irish Pub, 273 Buckhead Ave, Atlanta Ga 30305, 404-848-8488
Buckhead Ave will be closed off from the corner of North Fulton Drive to Peachtree Rd from 1 p.m.-11 p.m. on the event day. Free and metered street parking is available throughout the Buckhead neighborhood and patrons should be mindful that meters are running on Saturdays.
Website: http://www.fadobigbrewhaha.com
About Fadó Irish Pub
Fadó (pronounced fuh-doe) Irish Pub was the first Irish pub to be designed and constructed in Ireland and shipped and installed in Atlanta in 1996. Fadó is distinguished by its genuine Irish hospitality, quality of its pints and craic (pronounced 'crack', a uniquely Irish form of fun). Fadó has been voted 'Best Of' by a number of local and national publications, is the European sports headquarters and an official US Soccer Bar. Get in on the conversation on the pub Facebook page http://www.facebook.com/fadoatlanta or by following Fadó on Twitter http://www.twitter.com/fadoatlanta and following the Fado Big Brewhaha festival hashtag at #Brewhaha or #craftbeerfest.