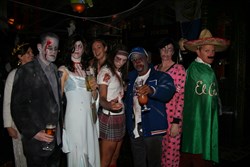 Austin, TX (PRWEB) October 15, 2013
What: Fadó Irish Pub in Austin's Warehouse District hosts a "Train Wrecks, Burnouts & Tragic Endings" themed Halloween Blowout on Saturday, October 26. Fadó staff and guests will be dressed as their favorite down and out celebrity. Guests can participate in a costume contest for the chance to win a keg party at the pub. With live music from the New Waves, no cover charge, and drink specials so good they're scary, this is sure to be the best Halloween party in Austin.
When: Saturday, October 26 at 9pm
Where: Fadó Irish Pub
214 W. 4th Street
Austin, TX 78701
Website: http://fadoirishpub.com/austin/
About Fadó Irish Pub:
Fadó Irish Pub was introduced to Austin in 1997 by a team of Irish and Irish-American entrepreneurs. Their goal was simple: bring the feeling and spirit of Ireland's pub culture to the States along with great Guinness, high quality food, and an environment where staff were free to be themselves and customers could escape from the day to day. Fadó Austin does just that, bringing an authentic Irish experience to the eclectic vibe of downtown Austin. Fadó is distinguished by its genuine Irish hospitality, quality of its pints and craic (pronounced 'crack', a uniquely Irish form of fun). Fadó has been voted 'Best Of' by a number of local and national publications, is the European sports headquarters and an official US Soccer Bar. Get in on the conversation on the pub Facebook page or by following Fadó on Twitter.
Media Contact:
John O'Brien, general manager, Fado Irish Pub
jobrien(at)fadoirishpub(dot)com or 512-457-0172