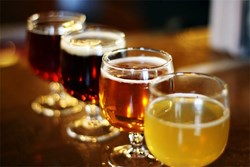 Annapolis, MD (PRWEB) September 24, 2013
What: Fadó Irish Pub at One Park Place is bringing together the hottest local, regional and European craft breweries for an afternoon of craft beer sampling on the patio. The 1st Annual Fadó Beer Fest kicks off at 3pm on Saturday, October 12, 2013, and tickets go on sale Tuesday, September 24, 2013. Beer lovers will enjoy sampling of 35+ beers, from over 10+ breweries five delicious ounces at a time. And like any great American craft beer festival, Fadó Irish Pub in Annapolis is hosting a brew fest that will offer a wide variety of the best American crafts and European beers, as well as a special food menu and live music all day and night. After the unlimited beer sampling event ends at 8pm, the party will continue well into the night with live music, more beer, and spirits. Advance tickets to the general admission sampling event go on sale September 24, 2013. Limited tickets available.
When: Saturday, October 12, 2013 from 3-8pm
Where: Fadó Irish Pub, One Park Place, Annapolis, MD 21401 410-626-0069
Please avoid the neighborhood street parking. One Park Place parking deck has over 1200 additional covered parking spaces.
Details:
Ticket Information
3-8pm: General Admission Beer Sampling Event - $35*
*All access to beer sampling event from 3-8pm with unlimited sampling of 35+ beers from over 10 craft beer breweries.
Live music begins at 3pm with Danny Burn followed by Terry Glaze and Subtle Hustle.
The live music stops at 11pm but the DJ will keep the party going inside with great Pub tunes til close.
Featured Brewery Sponsors: Devils Backbone, Goose Island Beer Company, New Belgium, Starr Hill, Fordham Dominion, The Chive Beer, Bold Rock Cider, Crabbies, Newcastle, and Guinness.
Website: http://www.fadoirishpub.com/Annapolis/beerfest
About Fadó Irish Pub
Fadó (pronounced fuh-doe) Irish Pub was the first Irish pub to be designed and constructed in Ireland and shipped and installed in Annapolis in 2007. Fadó is distinguished by its genuine Irish hospitality, quality of its pints and craic (pronounced 'crack', a uniquely Irish form of fun). Fadó has been voted 'Best Of' by a number of local and national publications, is the European sports headquarters and an official US Soccer Bar. Get in on the conversation on the pub Facebook page http://www.facebook.com/fadoannapolis or by following Fadó on Twitter http://www.twitter.com/fadoannapolis and following the Fadó beer festival hashtag at #beerfest
Media Contact:
Bernie O'Brien, general manager, Fado Irish Pub
bobrien(at)fadoirishpub(dot)com or 410-626-0069