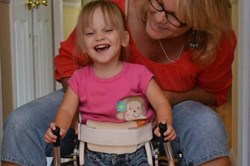 Annapolis, MD (PRWEB) November 12, 2013
"The Chive's" Annapolis, MD meet-up group anticipates an epic fundraiser.
WHAT: Just one month after cancer survivor and "Chive Charities" recipient Melissa Smith was awarded $50,000, changing her life for the better, Annapolis MD "Chivers" come together to host a "pay it forward" fundraiser for a local child born with spina bifida. With guest bartenders, The Chive sponsored silent auction, DJ, drink specials including KCCO Black Lager, and a $5 donation cover, a full on take-over at Fadó Irish pub ensures that "Chivers" and regular guests alike will have an epic night out.
WHEN: Friday, November 15, 8pm-close
BACKGROUND:
All donations on Friday night will benefit little Addy, born with spina bifida. Learn more about Addy and her family at "Hope for Sweet Addy." If you can't make the event but want to donate go here.
For all intents and purposes, cancer survivor and "Chive Charities" recipient, Melissa Smith is the event host Friday night as she chose little Addy as the recipient of "pay it forward." Melissa survived Hodgkins Lymphoma twice only to be diagnosed with a rare disorder called Transverse Myelitis which left her paralyzed from the waist down. It was Melissa's story that kicked off this event Friday night and is newsworthy still. Check this out. It's worth the read.
WHERE: Fadó Irish Pub - One Park Place - Annapolis, MD 21401
Parking –Please respect the Fadó Irish Pub neighbors and park in the Park Place garage, which has ample spaces.
PHOTO OPPORTUNITIES: Come down and meet Melissa Smith and learn about her fight and why she wants to "pay it forward" to sweet little Addy and her family. Learn what it means to be a "Chiver". Fadó Irish Pub is expecting to be packed with over 300 "Chivers" and it would be interesting to learn why they care so much about complete strangers. So far, $65,000 raised (and counting still!)
About Fadó Irish Pub:
Fadó (pronounced fuh-doe) Irish Pub, located at One Park Place in Annapolis and was the first Irish pub to be designed and constructed in Ireland and shipped and installed in Annapolis in 2007. Fadó is distinguished by its genuine Irish hospitality, quality of its pints and craic (pronounced 'crack', a uniquely Irish form of fun). Fadó has been voted 'Best Of' by a number of local and national publications, is the European sports headquarters and an official US Soccer Bar. Get in on the conversation on the pub Facebook page at @fadoannapolis and by following Fadó on Twitter @fadoannapolis
###
If you would like more information about this topic or to schedule an interview please contact Ellen Peacock, national marketing manager at Fadó Irish Pub at epeacock(at)fadoirishpub(dot)com or 404-455-5940.