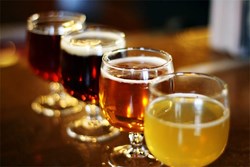 Atlanta, GA (PRWEB) August 22, 2013
What: Fado Irish Pub in Buckhead is bringing together the hottest local, regional and European craft breweries for an all-day craft beer and music festival and tickets go on sale Wednesday, August 28, 2013. The 1st Annual Fado Big Brewhaha kicks off at 2 p.m. on Saturday, September 14, 2013 and festival goers will enjoy sampling 75+ beers, from over 15 craft breweries, five delicious ounces at a time. Like any great American craft beer festival, Fado Irish Pub is hosting a brew fest that will offer a wide variety of the best American crafts and European beers, exclusive ticketing options for beer lovers of all levels, a VIP Sweetwater rooftop patio takeover with exclusive beers to taste as well as food tents and live music all day and night. After the sampling event ends at 6 p.m., the street party will continue well into the night with live music until 11 p.m., more beer, spirits and stein holding and brat eating contests. Advance tickets for the VIP package and the general admission sampling event go on sale August 28, 2013. Only 150 tickets are available to the public for the VIP Exclusive Sweetwater Rooftop Takeover.
When: Saturday, September 14 from 2-11 p.m.
Where: Fado Irish Pub, 273 Buckhead Ave, Atlanta Ga 30305, 404-848-8488
Buckhead Ave. will be closed off from the corner of North Fulton Drive to Peachtree Rd from 1 p.m.-11 p.m. on the event day. Free and metered street parking is available throughout the Buckhead neighborhood and patrons should be mindful that meters are running on Saturdays.
Details:
Ticket Information
1-6 p.m.: VIP Exclusive Sweetwater Brewery Rooftop Takeover - $75*
*Includes exclusive entry at 1 p.m. and full access to sampling 75+ beers (without the wait). The general admission craft beer sampling event begins at 2 p.m.
*Enjoy exclusive access from 2-3 p.m. to our VIP Sweetwater Rooftop Patio Takeover Event where you will sample 5 never before tasted Sweetwater cask concoctions. Participants all receive a Sweetwater t-shirt.
2-6 p.m.: General Admission Beer Sampling Event - $45*
*All access to outdoor event from 2-6 p.m. with unlimited sampling of 75+ beers from over 15 craft breweries as well as the general admission live music festival from 6-11 p.m.
6 p.m.- 11 p.m.: General Admission Live Music Street Festival - $15*
*Live music line-up until 11 p.m., including local favorites Desire, the greatest U2 cover band in the world headlining at 9 p.m. A Stein Holding contest and Brat Eating Contest from 8-9 p.m.
11 p.m. - close - Street Festival ends and a proper pub party continues inside with the Fado DJ and late night drink specials on offer.
Featured Brewery Sponsors: Sweetwater Brewery, Monday Night Brewing, Boulevard Brewing, Finch's Beer Co., Fox Barrel Cider Co., Lagunitas Brewery, Jacob Leinenkugel Brewing Co., New Holland Brewing, Red Har Brewing, Sierra Nevada, Goose Island Beer Company, Guinness, ABINbev
Website: [http://www.fadobigbrewhaha.com
About Fadó Irish Pub
Fadó (pronounced fuh-doe) Irish Pub was the first Irish pub to be designed and constructed in Ireland and shipped and installed in Atlanta in 1996. Fadó is distinguished by its genuine Irish hospitality, quality of its pints and craic (pronounced 'crack', a uniquely Irish form of fun). Fadó has been voted 'Best Of' by a number of local and national publications, is the European sports headquarters and an official US Soccer Bar. Get in on the conversation on the pub Facebook page http://www.facebook.com/fadoatlanta or by following Fadó on Twitter http://www.twitter.com/fadoatlanta and following the Fado Big Brewhaha festival hashtag at #Brewhaha or #craftbeerfest
Media Contact: Brian Russell, general manager, Fado Irish Pub
brussell(at)fadoirishpub(dot)com or 404-848-8433