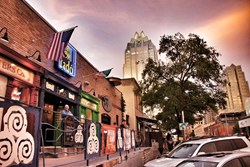 We want people to have a worry-free, enjoyable experience.
Austin, TX (PRWEB) August 06, 2013
Fadó Irish Pub, located in the Warehouse District, creates a stress-free event planning experience for any size party at any budget. With more and more groups steering away from the opulent, over-the-top private party venues in Austin, Fadó is the place to turn for a relaxed yet upscale experience at an affordable price without sacrificing quality.
It is Event Planner Sarah Brown's first holiday season with Fado. In her months here, she has proved herself a strong new member of the event team and she is looking to this holiday party season full of ideas and zeal. Sarah strives to make the entire planning process as stress-free and enjoyable as possible. As part of that process, Fadó requires no deposits, booking fees, or cancellation fees. "We want people to have a worry-free, enjoyable experience and part of that is not making them use a large chunk of their budget on useless fees," says Brown.
Fado knows that choosing the perfect venue also eliminates stress and worry during the planning experience. With its Irish public house décor and authentic bar built in Ireland and shipped to Austin, Fadó achieves the warm, welcoming feel of traditional pubs. The uniqueness of Fadó really draws people in for their private events. "The pub can accommodate any type of party the client has in mind from a mix and mingle buffet and cocktail party to a full sit down dinner," says Brown. It is the perfect space to host events for large companies, or small intimate gatherings for rehearsal dinners or graduation parties.
Fadó Irish Pub has already planned for an increase in party business sales as the economy continues to recover. This also means that the venue needs to find ways to differentiate itself apart from other places in the area as more and more people are seeking out event venues.
A planning option that sets Fadó apart from other party venues in the Warehouse District is the flexibility and freedom of choice when it comes to the private event menu. When planning a private event, especially on a budget, customers don't want to feel limited and Fadó's open-plan party menu gives the client complete control. The menu is much more than just Irish pub grub. While they do have the options of chicken tenders, wings, and the like, Fadó also offers dishes like spicy chicken satay, smoked salmon bites, and prime rib.
There is a reason why people choose Fadó as their private event venue in Austin and it comes from the overall atmosphere and hospitality of an Irish pub. John O'Brien, General Manager of Fadó Irish Pub and Restaurant Austin shares, "Our roots stem from a culture that is well known for the art of hospitality. Public Houses are an age old concept unique to Ireland known as places where guests can enjoy themselves in an inviting and cultivating atmosphere. We want to weave this traditional philosophy into our new program in order to take our customer service to the next level and ensure that Fadó is both a fantastic venue to throw a special occasion and to socialize."
About Fadó Irish Pub
Fado Irish Pub and Restaurant was introduced to Austin in 1997 by a team of Irish and Irish-American entrepreneurs with the goal of bringing the feeling and spirit of Ireland's pub culture to the States along with great Guinness, high quality food and an environment where customers could escape from the day to day. Fado Irish Pub Austin does just that, bringing an authentic Irish experience to the eclectic vibe of downtown Austin. Fado's event space in Austin is used year round for birthday parties, wedding rehearsal dinners, reunions, corporate events, team lunches, happy hour, office holiday parties and more. For more information, find the pub on Facebook and Twitter.