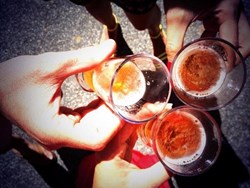 Chicago, IL (PRWEB) October 02, 2013
What: Fadó Irish Pub in River North is bringing together the hottest regional and European craft breweries for the 1st Annual craft beer festival. Tickets are on sale now for the Fadó craft beer fest which kicks off at 4pm on Saturday, October 19. Ticket-holders will enjoy unlimited sampling of over 25 beers, from featured regional and European craft breweries four delicious ounces at a time. Like any great American craft beer festival, Fadó Irish Pub in Chicago is hosting a brew fest that will offer a wide variety of the best American crafts and European beers, great food and live music with Acoustic Brothers. After the sampling event ends at 7pm, the party will continue well into the night with live music by Michael Heaton 'til close. Tickets are $30 in advance and $40 on the door. If advance tickets sell out, tickets will not be available on the door.
When: Saturday, October 19, from 4-7pm
Where: Fadó Irish Pub, 100 West Grand Ave. Chicago, IL 60654
312-836-0066
Details:
Ticket Information
4-7pm: General Admission Beer Sampling Event - $30 advance ticket price
*All access to beer sampling event from 4-7pm with unlimited sampling of 25+ beers from over 10 craft beer breweries.
This is a ticketed event. $30 advance tickets on sale now. If advance tickets don't sell out, $40 tickets will be available for purchase on the door the day of the event.
Live Music begins at 4.30pm with Acoustic Brothers. At 10pm, Michael Heaton will keep the party going with great Pub tunes. No cover.
Featured Brewery Sponsors:
Kona Brewing Company, Goose Island Beer Company, Central Waters Brewing, Tall Grass Brewing Company and many more.
Website: http://www.fadoirishpub.com/chicago/beerfest
Media Contact: Tom Dowd, general manager
tdowd(at)fadoirishpub(dot)com or 312-836-0066
About Fadó Irish Pub
Fadó (pronounced fuh-doe) Irish Pub was the first Irish pub to be designed and constructed in Ireland and shipped and installed in Chicago in 1997. Fadó is distinguished by its genuine Irish hospitality, quality of its pints and craic (pronounced 'crack', a uniquely Irish form of fun). Fadó has been voted 'Best Of' by a number of local and national publications, is the European sports headquarters and an official US Soccer Bar. Get in on the conversation on the pub Facebook page http://www.facebook.com/fadochicago or by following Fadó on Twitter http://www.twitter.com/Fadochicago and following Fadó craft beer festival hashtag at #craftbeerfest.