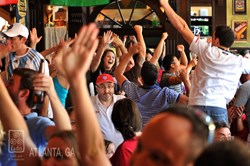 Columbus, OH (PRWEB) September 03, 2013
WHAT: Fadó Irish Pub in Easton Town Center is an official US soccer bar and the official fan after-party headquarters from Sept 6 - Sept 10 with player appearances, fan festivities and ticket giveaways to the sold out FIFA World Cup Qualifier at Columbus Crew Stadium against Mexico on September 10. Each party will be sponsored by Anheuser-Busch, featuring Bud and Bud Light Draft and Bud and Bud Light Aluminum bottles. Team USA supporters will have multiple chances over the course of 4 days at each event to win tickets to the sold-out Mexico match. Tickets will be given in the form of a voucher*, which includes 2 seats on the Budweiser Fan bus to and from the Stadium as well as a pre-game tailgating party at the Stadium for the ultimate USA soccer fan experience.
WHO: Fadó Irish Pub in Easton Town Center
4022 Townsfair way, Columbus. OH 43210
Website: http://www.fadoirishpub.com/columbus
Event Schedule and Details for Fadó Irish Pub:
Tuesday, Sept 2 at 7pm
Join T Bone of Columbus Sports Radio show "97.1, The Fan" for a night of raffle ticket giveaways and "Pool Ball", Sponsored by Budweiser. 10 pairs of tickets up for grabs throughout the event. Pool Ball is a great mix for any soccer party! [Have a look.
Friday, Sept 6
Easton Town Center welcomes US Soccer on the square then on to Fadó for the after-party! USA vs. Costa Rica viewing party starts at 10pm. Two projectors on the patio and Half time and midnight ticket giveaway to the Mexico game. Special red, white, and blue snow cones (adult beverages) in honor of the blizzard in Denver last go around!
Saturday, Sept 7 at 7.30pm
Columbus Crew Viewing party. Come down and watch your favorite MLS team take on Kansas City. Ticket giveaway at half time and 10.30pm. Turn in your predictor before kickoff of this top drawer soccer match and 3 winners will be pulled at random.
Sunday, Sept 8 at 6pm
Post Futsal party at the Pub. In the afternoon in Easton Town Square fans will watch locals take on former US national Team Soccer players in a traditional friendly 5 v 5 Futsal competition on the square. Then fans and competitors will meet back at Fadó for cold beer and great food for the after party with another chance to win a pair of tickets at 6pm. *Player appearances TBD.
Monday Sept 9 at 8pm
Special Soccer Pub Quiz hosted by Mark Dantzer Productions. The Winning team will receive 4 tickets to the USA v Mexico soccer game.
*Terms and conditions for Ticket Winners: Anheuser-Busch is providing a bus from Fadó to Crew stadium at 2:00 PM on 9/10. The bus will leave Crew stadium to head back to the pub one half hour after the match ends. All of the customers who win the tickets at Fadó must be ready to board the bus at 2PM. No transfers of tickets, IDs required (to match with the list of the fans who win the tickets). Tickets are given to the winners on the bus in exchange for the vouchers.
Easton Town Center is hosting family-friendly events September 6 - 10, 2013.
For more information on the day-time events: http://www.eastontowncenter.com/listing/agenttype/view/propertyid/558/us-soccer-fan-headquarters--events.aspx
Media Contact: Scott Neff, executive operating partner
614-418-0066 or sneff(at)fadoirishpub(dot)com
About Fadó Irish Pub:
Fadó Irish Pub & Restaurant, located on 4022 Townsfair Way in Easton Town Center is a favorite of International, US, and MLS soccer fans. Fadó is a proud member of the Official US Soccer Bar program and is the city's go-to spot for English Premier League, USA Men's, Champions League, Scottish Premier League, World Cup and much more.