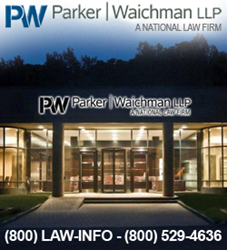 New York, NY (PRWEB) April 03, 2014
Parker Waichman LLP, a national law firm dedicated to protecting the rights of victims injured by defective medical devices, has filed a lawsuit on behalf of a Colorado woman who alleges that her Biomet metal-on-metal hip implant is defective and caused serious complications. The lawsuit was filed on March, 28, 2014 in the U.S. District Court for the Northern District of Indiana, South Bend Division (Case No. 3:14CV642). Biomet, Inc. and Biomet, Orthopedics, LLC have been named as Defendants. The case has been filed into the multidistrict litigation (MDL) before the Honorable Robert L. Miller, Jr. (MDL No. 3:12-md-2391).
According to the Complaint, the Plaintiff underwent a right total hip replacement surgery on August 23, 2004 and was implanted with the M2a-Taper Device. The lawsuit alleges that after the surgery, the Plaintiff suffered from increasingly debilitating pain, discomfort, soreness, dysfunction, and limb length inequality; ultimately, her doctor diagnosed her with severe soft tissue metallosis of the right hip. Thereafter, the Plaintiff was required to undergo a revision surgery to replace the failed device.
The lawsuit states that the M2a-Taper Device is a metal-on-metal hip implant because all of its components are made of metal; these devices were marketed with the claim that they would last much longer than the conventional metal-on-plastic hip implant. However, the suit alleges, metal-on-metal hip implants, including the M2a-Taper device, are known to carry inherent risks because they can release metal particles into the body when the components of the implant rub together. The lawsuit also alleges that Biomet was aware of the defects, and even as other metal-on-metal devices came under scrutiny for high rates of failure, the manufacturers continued to falsely advertise the device as superior and safe.
The Defendants concealed the defects of the device for financial gain, the lawsuit alleges. The lawsuit further alleges, that even though the U.S. Food and Drug Administration (FDA) had received an increasing number of complaints involving metal-on-metal hip implants since 2006, Biomet never halted its sales or warned patients about the risks. The lawsuit points out that, as a result of the high failure rates associated with such devices, the FDA required Biomet and other metal-hip makers to provide additional data on metal levels in the blood of patients who received the devices.
Parker Waichman LLP continues to offer free legal consultations to victims of metal-on-metal hip implant injuries. If you or a loved one experienced the premature failure of your implant or other health problems associated with a metal-on-metal hip implant, please contact the office by visiting the firm's Defective Hip Implant page at yourlawyer.com. Free case evaluations are also available by calling 1-800-LAW-INFO (1-800-529-4636).
Contact:
Parker Waichman LLP
Gary Falkowitz, Managing Attorney
1+ (800) LAW-INFO
1+ (800) 529-4636
http://www.yourlawyer.com