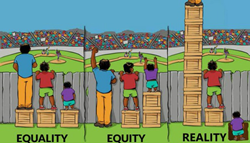 Of all the forms of injustices, educational, gender and health inequities are the most damaging to our health, our well-being and our evolving human consciousness.
Charlotte, New Carolina (PRWEB) December 21, 2016
Dr. Botelho calls for a national campaign for listening to people's stories about what is most unfair about healthcare. These stories will reveal people's diversity of philosophical, political and religious views about fair healthcare. Politicians must hear people's stories to move healthcare beyond political ideologies and deliver fair healthcare. The power of stories could heal the political divide.
People struggle to define what is fair healthcare. At one extreme, the right-wing, individualistic solution is a total reliance on the free market with each person paying their own way. At the other extreme, the left-wing community solution is a total reliance on a single payor system with each paying according to their means. Which way is most fair?
Individual values (liberty and freedom) are in conflict with community values (equality and equity). This political warfare between these value systems disables any rational discussions about how to deliver fair healthcare. Political ideology becomes more important than providing equitable healthcare to people.
Anyone who advocates for equality and equity in healthcare risks being subjected to this right-wing reflex. Right-wing fundamentalists dismiss all advocates for equality and equity as socialists or communists and negatively brand them as Social Justices Warriors.
This fear-evoking right wing reflex inhibits open dialogues, and the left wing is ineffective in breaking this reflex. This reflex thinking stops many professional and corporate organizations having the courage to openly dialogue about this complex topic.
What is remarkable is that the American Hospital Association formed a coalition of organizations to pioneer the equity of care movement, This coalition includes:
1. American College of Healthcare Executives
2. America's Essential Hospitals
3. Association of American Medical Colleges
4. Catholic Health Association of the United States.
At this time, it is very unclear as to whether TrumpCare is aligned with this equity of care movement. Dr Tom Price (new head of the DHSS) did not include equality and equity among his six healthcare principles.
SMALL ASK: Read Launch Story Movements to Address What's Most Unfair about Healthcare.
BIG ASK: Join the Million Online March. Use your individual and organizational Facebook and/or Twitter Accounts to sign up.
BIGGER ASKS: To go the extra mile, share this press release on your Websites, Twitter account and Facebook page. Invite others to do the same. Pay-it-forward. Catalyze chain reactions.
BIGGEST ASKS: Invite mass media and organizations with large social connections) to sign up to this campaign. Ask marketing and social media groups, journalists and media organizations to promote the campaign.
We can use the Third Way to navigate a pragmatic middle way by managing the polarity between individual and social values.