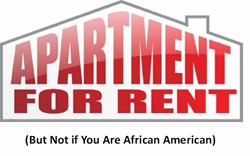 We brought this case because we had compelling evidence of racial discrimination and African Americans cannot be denied housing choice based on race.
Mineola, NY (PRWEB) June 13, 2014
ERASE Racism, along with four other plaintiffs, successfully reached a settlement in a housing discrimination case filed against a Mineola landlord and property manager. The settlement to resolve the lawsuit ERASE Racism, et al. v. LLR Realty LLC, et al., filed before the United States District Court for the Eastern District of New York, Case Number 2:13-cv-04821-GRB, provides $165,000 in damages, attorney's fees, and costs to plaintiffs regarding the rental of apartments at the 75-unit Town House Apartments. The settlement provides for substantial structural changes to the rental operations at the Mineola apartment building. Accordingly, Defendant LLR Realty LLC agreed to adopt and implement non-discrimination policies to prevent future fair housing law violations at the property pursuant to the Settlement Agreement and Order.
"We brought this case because we had compelling evidence of racial discrimination and African Americans cannot be denied housing choice based on race," said Elaine Gross, president of ERASE Racism.
The case stemmed from an investigation jointly funded by ERASE Racism and the Fair Housing Justice Center (FHJC). Testers were sent to the Town House Apartments on multiple occasions. Each test revealed troubling and significant discrepancies between the welcoming responses received by white testers and the discriminatory actions endured by African American testers who inquired about one-bedroom apartments for rent. Consequently, as the lead plaintiff, ERASE Racism filed a Complaint on August 28, 2013, with the FHJC and three African American testers naming LLR Realty, LLC and the building superintendent as defendants for engaging in housing discrimination.
The settlement mandates that the defendant LLR Realty undertake crucial actions to prevent future discrimination, including employee training of the owner, building superintendent and other employees and/or agents involved in showing and renting apartments; record keeping of vital documents, including rental applications and denials; and proper advertising to ensure adherence to fair housing laws. The settlement grants ERASE Racism the power to examine records to help ensure compliance until the year 2017. Also, apartment vacancies must be advertised to the public through http://www.craigslist.com in a non-discriminatory manner as a result of the settlement. In promoting fair housing, the settlement requires that HUD Equal Housing Opportunity notices are posted at the property and visibly rendered on all rental applications.
FHJC Executive Director Fred Freiberg stated, "This settlement should send a clear message to other rental housing providers on Long Island that housing must be made available on an equal basis to all people without regard to race." Freiberg pledged that, "the FHJC will continue to work with ERASE Racism and other organizations to ensure that fair housing laws are vigorously enforced."
ERASE Racism President, Elaine Gross, remarked, "While many people would like to believe that this type of housing discrimination is no longer an issue, it is a shame that the burden falls on a small number of concerned organizations, like ERASE Racism, to document the discrimination and use the courts to stop it. Federal and local housing agencies should aggressively enforce the fair housing laws already in existence to prevent discrimination in the future."
The Settlement Agreement and Order signed by United States Magistrate Judge Gary R. Brown on June 12, 2014, resolves the plaintiffs' complaint which alleges that Defendants, "violated federal and county fair housing laws by 1) representing that housing was not available for inspection or rent when in fact it was so available; 2) discriminating in the terms and conditions of rental[s] by quoting higher rents; and 3) making unavailable, denying and/or otherwise withholding apartments for rent because of race and/or color at the Town House Apartments, a residential rental building located at 225 First Street, Mineola, New York" according to court documents. The plaintiffs were represented by attorneys Diane L. Houk and Samuel Shapiro of Emery Celli Brinckerhoff & Abby LLP.