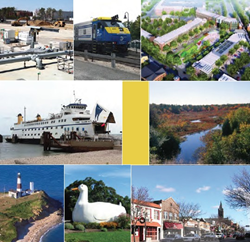 ERASE Racism is pleased to see the County prioritize affirmatively furthering fair housing.
Hauppauge, NY (PRWEB) August 13, 2015
The Suffolk County (N.Y.) legislature has unanimously passed a bill approving and adopting the Suffolk County Comprehensive Master Plan 2035, which includes a commitment to building more affordable housing in neighborhoods with quality resources. The bill was signed by Suffolk County Executive Steven Bellone on Wednesday, August 12th. The Comprehensive Plan, the first to be adopted by Suffolk County since 1971, provides a land-use framework addressing the County's needs, including those needs related to housing and economic development.
Suffolk County's Comprehensive Plan is noteworthy in that the Plan recognizes the need for increased affordable housing. It also calls on the County and its municipalities to work both collectively and independently to build affordable housing in high-opportunity communities—communities with quality schools and greater access to community resources, such as but not limited to supermarkets, healthcare services and public transportation. The Comprehensive Plan also states that Suffolk County will undertake an assessment of existing multi-family homes and those in construction, including where these homes are located, and the impediments to addressing multi-family housing shortages.
ERASE Racism President Elaine Gross applauds Suffolk County's inclusion of these recommendations into its final Comprehensive Plan. "ERASE Racism is pleased to see the County prioritize affirmatively furthering fair housing. We look forward to the efforts of the County and Suffolk municipalities to implement strategies to eliminate impediments to fair housing. In addition, while not directly addressed in this plan, aggressive enforcement of fair housing laws by the Human Rights Commission should remain a top priority. The County acknowledged concerns about educational gaps between different school districts and we hope it will take steps to address this critical issue."
About ERASE Racism: ERASE Racism is a regional organization that leads public policy advocacy campaigns and related programmatic initiatives to promote racial equity in areas such as housing, public school education and healthcare. It engages in a variety of research, education and consulting activities to identify and address institutional and structural racism, primarily on Long Island.