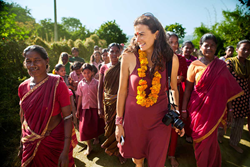 October is Fair Trade Month, and we're excited to announce we'll be offering more Fair Trade styles than ever, thanks to investments we've made in two of our factories. We're going from nine pieces in Fall 2014, to 45 in Spring 2015
Carlsbad, CA (PRWEB) October 01, 2014
PrAna—The first major apparel company in North America to offer Fair Trade Certified styles in partnership with Fair Trade USA—has announced growing its Fair Trade Factory offerings to 45 pieces for Spring 2015, an increase of more than 400% from Fall 2014.
"October is Fair Trade Month, and we're excited to announce we'll be offering more Fair Trade styles than ever, thanks to investments we've made in two of our factories," said prAna's Design Director, Ellen Krimmel. "We're going from nine pieces in Fall 2014, to 45 in Spring 2015, and that helps ensure more workers have safe conditions, are able to strengthen their communities, all while creating high-quality apparel and accessories for prAna."
PrAna has been committed to expanding its Fair Trade Certified styles since its first "Soul T" in 2010. For men, prAna now offers six Fair Trade Certified T-shirts and three stylish tops for women, including the popular Therese sweater.
Fair Trade certification for apparel and linens is the first social, economic, and environmental standard that directly benefits the farmers who grow the cotton and the workers who sew the garments. It offers companies and consumers unprecedented opportunities to positively impact the lives of these workers. It is an empowering model for the entire supply chain: cotton farmers and factory workers trying to improve their lives, factory managers who want to do the right thing, brands like prAna who want to support these efforts, and conscientious shoppers who want to make every purchase matter.
"For every Fair Trade Certified product sold, a percentage is paid directly to a special workers' fund," explains prAna's Director of Sustainability, Nicole Bassett. "Workers decide collectively how to spend these funds, based on their community's greatest needs: from bonuses and scholarships, to medical care and transportation."
Every October, prAna celebrates Fair Trade Month with Fair Trade USA. The theme of this year's campaign is "Buy Fair, Be Fair." Join in the conversation on October 7 at 8pm on Twitter using #BeFair and be sure to check out http://www.befair.org to learn more about Fair Trade, giveaways, and find out how you can get involved.
To learn more, please visit prAna.com.
About prAna
PrAna is a lifestyle brand that draws its name from the ancient Sanskrit word for breath, life and vitality of the spirit. Born from climbing and yoga, the prAna team creates mindfully-designed, purposeful and stylish apparel for free-spirited people to pursue their passions on the water, mat, rock, trail, and street. From its beginning in 1993, prAna has been committed to weaving sustainable practices into its operations and supply chain, working to reduce its impact on soils, water supplies and other natural resources while promoting conservation. PrAna is also conscious of its impact on communities and has worked to include a growing number of fair trade styles every year. It is the first major apparel company in North America to offer Fair Trade USA certified products and accessories. PrAna is sold in five flagship stores, online at prana.com, and in 1,400 specialty retailers across the US, Canada, Europe and Asia. For a list of prAna retailers, please visit prana.com/dealer-locator.html.
Find @prAna on Facebook, Twitter and Instagram