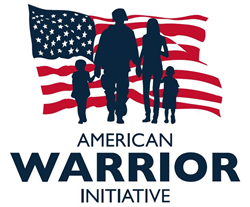 After deployment, one of the first things that many veterans do is look for a place to live. This helps them feel more grounded – so they can live the American dream they fought to preserve
Stow, Ohio (PRWEB) March 14, 2017
Fairway Independent Mortgage Corporation in Stow, Ohio, in conjunction with the American Warrior Initiative, is pleased to announce the American Warrior Real Estate Professional (AWREP) Boot Camp event, coming to northeastern Ohio on Tuesday, March 21st. The half-day event, which will take place at the Cuyahoga Falls Sheraton Suites, attracts real estate agents, business professionals, and local veterans from across northeast Ohio for an engaging day of education, conversation and some special recognition for very deserving local heroes.
The American Warrior Initiative was founded in 2012 by retired Army veteran, Sean Parnell, and Fairway branch manager Louise Thaxton. Since then, Sean and Louise have traveled the country, educating over 20,000 real estate agents and business professionals at Boot Camp events like the one that will take place on Tuesday, March 21st in Cuyahoga Falls. Through these trainings, mortgage professionals and real estate agents are thoroughly prepared and equipped to handle the mortgage needs of active duty and former military clients.
Why design an initiative for veterans around real estate?
Real estate agents are some of the first people that veterans interact with after returning from deployment; the American Warrior Initiative contends that is critical for real estate agents to understand how to treat veterans with compassion, helping them to make connections in the community, and understanding available veterans benefits.
Sean Parnell explains, "After deployment, one of the first things that many Veterans do is look for a place to live. This helps them feel more grounded – so they can live the American dream they fought to preserve,"
"Never before has such a long-running war been fought by such a small percentage of the population," added Louise Thaxton. "By educating real estate agents and mortgage loan officers on how to be the best possible partner during the home-purchase process, we can become an ally and watchdog for our veterans and military families."
Following the classroom portion of the Boot Camp event, Sean Parnell will provide the Keynote address. Parnell is a Retired Army Infantry Captain with the elite 10th Mountain Division, and veteran of over 485 days of fighting along the Afghan-Pakistan border. When he returned from combat, Parnell authored Outlaw Platoon, the New York Times best-selling story of his platoon's crucible of combat in Eastern Afghanistan. He is one of the nation's preeminent advocates for our military.
The highlight of the event will take place at the end - following the keynote address, the Stow team of Fairway Independent Mortgage Corporation and the American Warrior Initiative will recognize a deserving local veteran for their service in a special way.
The American Warrior Real Estate Professional Boot Camp will take place at the Sheraton in Cuyahoga Falls on Tuesday, March 21st. The event is open to all real estate professionals, and will provide 2.5 hours of CE credit. Veterans and members of the community are welcome and may attend the event for free. Space is limited and tickets are required to attend. For more information, visit http://awrepstow.eventbrite.com or call 330-923-6704.
About American Warrior Initiative:
The objective of the non-profit American Warrior Initiative (AWI,) a 501(c) 3, founded in part by Fairway Independent Mortgage Corporation, is to educate, encourage and inspire Americans to give back to the military. A key part of this initiative is the education platform for real estate agents and mortgage professionals.
For more information about American Warrior Initiative, visit http://www.americanwarriorinitiative.com
About the Stow Fairway Independent Mortgage Location:
The first Ohio branch of Fairway Independent Mortgage Corporation was founded in 1999 by brothers Brian Thomas and Mark Thomas, in Stow, Ohio. Fairway and the Thomas brothers have served the residents of northeastern Ohio and the surrounding area for over 17 years with offices in Stow, Green, Salem, Amherst, and Schererville, Indiana.
For more information about Fairway Stow, visit http://www.fairwayloansnortheastohio.com
About Fairway Independent Mortgage Corporation:
Founded in 1996 by Steven Jacobson, and named by a childhood best friend, colleague and forever member of the Fairway family, Randy Cross, Fairway Independent Mortgage Corporation (FIMC #2289) is a mortgage lender headquartered in Madison, Wisconsin and Carrollton, Texas. The company has more than 250 locations and over 4,100 employees nationwide. At Fairway, customer service is a way of life; speed of response is one of the Core Values of the company. The goal of Fairway is to act as a trusted advisor, providing highly personalized service and helping clients through every step of the loan process. It's all designed to exceed expectations, guarantee satisfaction and earn trust.
For more information about Fairway Independent Mortgage Corp., visit http://www.FairwayIndependentMC.com
###
FOR MORE INFORMATION, CONTACT:
Jenne McCarty
Branch Marketing
Direct 330-923-6704
jenne.mccarty(at)fairwaymc(dot)com