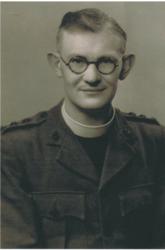 "Warned at midnight to be ready for a quick move. Marched 15km to another cowshed and warned that guards would shoot if we broke formation."
London, Salisbury, UK (PRWEB UK) 11 July 2013
Reverend Fairweather joined the Royal Army Chaplains in 1941, and in World War II, just after D-Day, he was posted to France during the North West Europe Campaign. It was whilst he was in France that he was captured by the Germans and reported missing.
Fairweather's son Kenneth, who passed the diaries on to Forces War Records, said, "When we received a telegram reporting that he had gone missing we presumed the worst, but rather miraculously he turned up two weeks later." Reverend Fairweather was then reported as an escaped Prisoner of War and his diary enshrines his personal account of the events surrounding his capture, almost 70 years ago.
"I'm not sure whether it is true, but our understanding was that my father went to get some men that had gone missing at the time. He was told not to, but disobeyed orders and ended up walking straight into German patrol. That was when the diary started."
The account talks about how the Chaplain had to spend his time in various cowsheds and barns with the Germans – often walking for miles and going without food. One excerpt from Sunday 25 August 1944 says, "Warned at midnight to be ready for a quick move. Marched 15km to another cowshed and warned that guards would shoot if we broke formation." The diary also talks about the "excitable Nazi temper being much in evidence."
Kenneth Fairweather told Forces War records, "One morning the Germans just vanished. My father was in a cowshed overnight and by the next morning they were gone and he escaped." Luckily for Reverend Fairweather, at the time of his capture in August 1944, the allies were closing in with a powerful offensive, and the Germans were on the retreat with isolated groups beginning to surrender. "I think my father and the fellow prisoners felt extremely lucky that the Germans didn't throw a couple of grenades in before they left."
Reverend Fairweather passed away in August 1978. Mentioned in Dispatches (MID) three times for recognition of his gallant action in the face of the enemy, Fairweather also held four medals including the 1939-45 Star and War Medal 1939-45.
Reverend Fairweather's original WW2 Prisoner of War diary and many other historic war documents are available online on the Forces War Records website.
Forces War Records is the definitive online guide to military ancestry searches and sister site to Forces Reunited, the leading British military community on the web. The company is continuously adding new records (around 200,000 a month), helping members with their military genealogy quests.