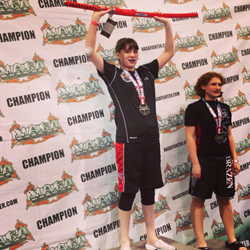 I've Always Wanted To Win A Sword, Now I Finally Have One
Belcamp, Maryland (PRWEB) April 30, 2014
This past weekend grappling and BJJ practioners from all of the over east coast met in Morris Town New Jersey to compete at the NAGA Grappling Championships.
Thousands of competitors filled the sportsplex to see who would emerge the best in their divisions. One of the competitors was 13 year old Top Flight MMA student, Faith Odonnell of Aberdeen Maryland. Odonnell has been regularly competiting at grappling tournaments but had yet to win her division and yet to win the esteem 1st place Samurai Sword.
All that changed this weekend as Odonnell won her Nogi division. In the Championship match Odonnell secured the win with an impressive armbar.
Odonnell had this to say about her championship win," I've always wanted to win a sword, now I finally have one. I am so excited!"
Odonnell coaches say that she is a real hard on the mat and they are proud she go to reap the rewards of her consistent effort. Odonnell plans to continue competing and improving her martial arts skill set so she will ,one day, become a Black Belt champion, which is her ultimate goal.
A highlight video will be made a available at the Top Flight MMA website http://www.TFMMA.com. For more information on the 30 Day Free kids MMA and Brazilian Jiu-Jitsu training contact Top Flight Mixed Martial Arts Academy.