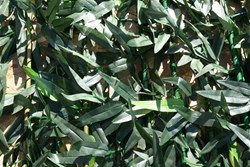 Who's using Geranium Street Floral? Hotels, event/party planners, premium television shows, set designers, mansion owners, equestrian, real estate, retail and more!
San Marcos, CA (PRWEB) September 25, 2013
Fake bamboo comes in a roll that is 42" high and 120" long. This can be used to cover chain link or wrought iron fences and create a privacy barrier.
Another great use of the fake bamboo roll is to extend the height of an existing fence. The roll of fake bamboo can be attached to a wooden fence or retaining wall and add an additional twenty to thirty inches of privacy. From the other side it just looks like natural bamboo is growing over the fence line.
Artificial foliage, once considered tacky, is now in vogue due to a number of factors. First of all, the new artificial foliage looks real due to new manufacturing techniques. Secondly, UV resistant fake plants do not fade in the sun. Finally, artificial plants can be installed immediately and require no water or maintenance.
Homeowners can find all kinds of uses for the fake bamboo rolls in the backyard, on the patio, around the pool, or on the deck. Condo owners and even high rise apartment dwellers can use fake bamboo for privacy on their balconies or patios. The products can also be used to block unsightly utility boxes, etc. Fake bamboo can even be used indoors to cover windows, or be placed in decorative planters.
Geranium Street Floral offers a whole range of artificial foliage products including artificial boxwood hedge mats, bushes, brush, fake ivy, and fake bamboo rolls. There are videos online that demonstrate installation techniques and decoration ideas. Geranium Street ships throughout the mainland United States.
Related News:
Artificial Bamboo Is Hot New Product
Related Hashtags:
#Privacy #Bamboo #FakePlants #LEED #Hotels #EventPlanners #PartyRentals #Green #NY #SF #SD #LA #Hollywood #FFE #TedCruz #AgentsOfShield #NBC #FOX #CBS #CNN
Related Search Terms:
fake bamboo, artificial bamboo, fake plants, privacy hedge, hedge panels, fake boxwood, Geranium Street Floral, creative gifts,