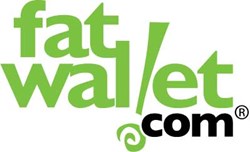 More and more online shoppers are coming to FatWallet because they can easily compare and choose their own path to the maximum savings.
Beloit, WI (PRWEB) September 17, 2013
FatWallet, the preferred one-stop for online coupons and cash back at over 1,500 stores, presents smart options for shoppers to save on fall fashion and outdoor sportswear in September. The annual Fall Clothing Deals features hundreds of seasonal offers from major retailers that include additional savings in cash back rewards from stores like Macy's, Sears, Toms, and dozens of others in September. Clothing related sales made through FatWallet during retailers' Fall Fashion events have risen by 92% since 2010 as a direct result of shoppers searching for more information and tools to compare all the available discounts, free shipping offers and exclusive coupon codes on the latest shirts, jeans, jackets and shoes.
"September is an opportunistic time for online shoppers to score extra savings on new styles in fall clothing and seasonal sportswear," states Brent Shelton, FatWallet spokesperson. "More and more online shoppers are coming to FatWallet because they can easily compare and choose their own path to the maximum savings."
Fall shoppers will also find deep discounts on sports and outdoors items in September. Like fall clothing, FatWallet has seen online sales made through the site rise significantly the last two years by focusing on featuring the latest coupons for trending fall gear and clothing in a variety of categories. Bargain hunters will find discounts up to 75% off, savings on NFL apparel and gear, collegiate wear coupons and seasonal hunting and fishing deals from dozens of top stores offer that include cash back, like Timberland, Backcountry.com, NFL Shop, REI and Sports Authority. The FatWallet forums also keeps shoppers up to speed on hottest retail offers and the savvy community adds smart tips for saving more on September's hottest online and brick-and-mortar bargains.
About FatWallet: As the preferred online coupons and cash back shopping resource for millions of smart consumers, FatWallet.com works closely with 1,500+ retailers like Kohl's, Newegg, Walmart and Amazon to publish special offers, discounts, coupon codes and Cash Back rewards to its members. The much celebrated FatWallet forums represent the pulse of an evolving online marketplace where smart consumers gather to share and learn. FatWallet is owned by Performance Marketing Brands (PMB) who owns and operates the world's most rewarding shopping programs. Through its family of distinct websites and reward programs, PMB users can get a great deal and earn money back every time they shop. PMB shoppers are expected to spend over $2 billion through PMB's websites and shopping programs in 2013.