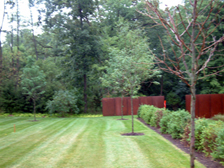 Color change is generally not a good sign when it happens too early.
Philadelphia, PA (PRWEB) October 13, 2014
Fall foliage enthusiasts in the Philadelphia area are in for a treat this year, with trees expected to display exceptional color through October 28, 2014. However, trees that started changing color in August and September may have health problems. Giroud Tree and Lawn, provides tips on where to go to take full advantage of the beautiful colors and advice on Tree Service actions to take if a tree changed color too early or has safety issues.
Pennsylvania has a longer and more varied fall foliage season than any other state in the country, according to the PA Department of Conservation and Natural Resources (DCNR). Whether day trips or weekend excursions, PA makes it easy to find the best places to view the nature's colorful autumn display at DCNR's Fall Foliage website.
As the days grow shorter and nights longer and cooler, biochemical processes in the leaves kick into high gear changing leaves on deciduous trees from lush green to vibrant autumn colors. Trees in Southeastern PA typically change color in Mid-October.
"Color change is generally not good when it happens too early," explains Lou Giroud, President and ISA Certified Arborist at Giroud Tree and Lawn. "Trees that turned color back in August and September may be under stress and have health issues."
Homeowners with trees that changed color too early should take the following tree service actions to protect tree health and safety.
1. Start with a professional tree service inspection
Spotting problems or hazards early is the main purpose of the inspection. An ISA Certified Arborist will do a root to crown inspection to identify what is causing tree stress and other problems that may require action such as decay, cracks and excessive deadwood.
2. Prune now for health, beauty and safety
Fall is a great time to prune most trees. Tree trimming should focus on safety and health and include deadwood removal, elimination of crossed branches and establishment of a healthy growth pattern.
3. Install cable supports in weak limbs
When winter storms strike, trees with multiple trunks or included bark are prime targets for failure and damage. Cable supports help to keep trees from splitting apart. The hardware must fit the specific problem and be installed at the proper height and tension.
4. Control Destructive Pests and Diseases.
If the inspection uncovers insect or disease problems, fall treatments are available for issues including Emerald Ash Borer, Spider Mites, Lace Bugs, Hemlock Adelgid and Scale. Treatments must be completed before cold weather hits.
5. Fertilize trees.
A Fall injection of time-release fertilizer stimulates root growth, improves root absorption capability and provides vital nutrients through the winter to get a strong start in the spring which is especially important for stressed trees.
Follow the above tips from Giroud Tree and Lawn to take in the beauty of Fall and ensure tree health and safety.
About Giroud Tree and Lawn
Giroud Tree and Lawn specializes in tree service, tree removal and lawn care programs that make customers love doing business with the company since 1974. Serving Bucks, Montgomery and Philadelphia Counties, the company offers professional tree and lawn evaluation, tree pruning, tree removal, insect and disease control, fertilizing, stump removal and traditional and 100% organic lawn programs to keep lawns healthy and green . Giroud Arborists are certified by the International Society of Arboriculture (ISA) and have the knowledge and experience required to diagnose, treat and maintain tree and lawn health. The company is accredited by the Better Business Bureau and has been awarded the Angie's List Super Service Award® every year since 2005. The "Giroud Treework for Charity" program donates free tree care services to parks, historical sites and other non-profit organizations located in the Company's service area. For more information, visit the company website at http://www.giroudtree.com or call 215-682-7704.