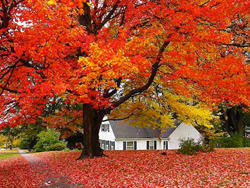 As the weather changes, it is important for homeowners to take necessary steps to ensure their home and families safety.
Philadelphia, Pennsylvania (PRWEB) November 04, 2013
Fall is a great time for people all over the country—it means cooler temperatures, changing leaves and a return to school for students. Despite all of the activity associated with fall, it's important that homeowners don't fall behind on their home security efforts, according to the professionals at AlarmSystemReport.com, a site dedicated to providing alarm system reviews. Often, homeowners become lulled into a false sense of security, because robberies are more common during the summer, but this isn't always the case, and burglars can strike at any time. The team at Alarm System Report has compiled a list of home security tips, specifically for fall.
1. Check all outdoor lights to ensure they are working properly. During the fall, there are more hours of darkness, and this can be advantageous for a burglar. The shroud of darkness is something burglars like, and they're often deterred from targeting homes with lots of functioning outdoor lighting. It may not have seemed as important during the long days of summer, but take the fall as an opportunity to get all outdoor lights working.
2. Consider using a home automation system to make it look like someone is home in the evenings. Shorter days mean more darkness, and if the members of a household don't return until later in the evening from work or school, this leaves more opportunities for a potential burglary to occur.
3. Keep leaves raked at all times. Not only is an un-raked yard unsightly, but it gives the appearance that homeowners may be away. Keeping a yard tidy can be more difficult during the fall, but also worth it to prevent a robbery.
4. Homeowners should always ensure their home is equipped with the very best home alarm systems, but it's also important to have environmental sensors that are effective and working properly. Fall means cooler temperatures, which can also lead to a higher risk for fires associated with heating devices, as well as an increased likelihood of carbon monoxide poisoning. Either install, or check all smoke detectors and carbon monoxide monitors at the start of fall.
5. Keep gutters clean of debris. This not only keeps a home from looking as if its residents are away, but can also help homeowners avoid other problems, including flooding and erosion. Leaves left in gutters can also lead to mold, which is a dangerous and very expensive problem to remedy.
About AlarmSystemReport.com
AlarmSystemReport.com is the nation's leading provider of information and unbiased reviews regarding the home alarm industry. The site caters to individuals throughout the country. Whether they're seeking information about Oklahoma security systems or New Hampshire security systems, AlarmSystemReport.com has valuable information. The site also allows users to access valuable coupons and discount codes which can be used for the purchase of a home alarm system.