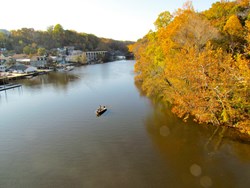 Prince William, VA (PRWEB) September 27, 2013
Experience photographic foliage and the vibrant transition to fall in Prince William & Manassas, VA where countless acres of forest are transformed into a picturesque canvas of color and annual fall festivals draw thousands each year.
Spanning from the stunning shores of the Potomac River to the rolling countryside of the Bull Run Mountains, there are countless ways for visitors to do some leaf-peeping in these Northern Virginia destinations.
Visitors can begin their fall vacation with a trip to Old Town Manassas Oct. 5 to participate in the 31st annual Fall Jubilee. This family friendly extravaganza fills the streets of this historic town each year and includes a wine garden, pumpkin patch, live entertainment and more than 100 crafter and community booths.
Following the festival, drive to the Bull Run Mountains to see a multitude of trees bursting with fall colors. At the foothills of the mountains, connect with the Bull Run Mountains Conservancy, which offers guided hikes the first Wednesday of every month and special Halloween Safari nighttime hikes Oct. 19, 25 and 26. Or, venture alone to explore 8 miles of trails that lead to old mills, homesteads, Civil War sites and family graveyards as well as provide stunning views of the countryside.
After, relax at the Winery at La Grange. Nestled at the foothills of the Bull Run Mountains, this winery features spectacular views of the multi-colored trees along the mountains and about a dozen wines to taste.
The leaf-peeping adventure can continue at Prince William Forest Park, which protects the national park service's largest piedmont forest. Hike or bike through 40 miles of trails that wind through lush forests and feature an array of wildlife.
Or, view the fall foliage from the rivers. Board a Miss Rivershore boat for a guided trip down the Occoquan River. Capt. Mark Perry provides a lively history lesson of the area while riders sip cool beverages and get stunning views of Historic Occoquan.
Visitors can also venture into the Potomac River from Leesylvania State Park. Located on a peninsula, this park provides excellent opportunities for kayaking, boating and fishing. Visitors can also hike along the shoreline of the Potomac River or through several miles of wooded trails filled with wildlife and historic sites.
For more information on fall events, scenic drives and parks, visit DiscoverPWM.com.