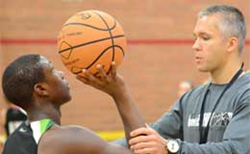 Confidence in your skills and in your leadership is a huge advantage when you step on the court the first day of practice.
San Rafael, CA (PRWEB) September 07, 2016
US Sports Camps' NBC Camps Varsity Academy is the creation of NBC Camps founder Fred Crowell. The program was designed to give athletes specific training during the off-season. Fall is prime time to get in shape and to polish up key areas of the game such as shooting, creating opportunities to score, and learning to maintain confidence during the early team selection process. Hundreds of athletes have experienced NBC Varsity Academy including Spokane women's basketball legend University of Tennessee standout, Angie Bjorklund. Many others have gone onto play college basketball.
NBC Spokane Varsity Academy offers two different levels of training. Division 1 is for high school athletes ages 14-18. Training offers an intensive supervised opportunity to train with other top players, get insights from great coaches, and get mentally prepared for the opening season. Division 2 is for athletes ages 9-13, where coaches focus on quality repetitions, great fundamentals, leadership, and skill elevation. Located at the Warehouse on Sunday afternoons and/or Tuesdays, athletes can select one or two day training based on their schedule and vision.
Senior Vice President Danny Beard and Former Kansas State standout believes intentional training during the crucial months before basketball season could be the difference maker in your season. "Confidence in your skills and in your leadership is a huge advantage when you step on the court the first day of practice. Players who are intense, focused, ready to play are going to get the attention of the coach and the respect of the team," says Coach Beard.
About NBC Basketball Camps
NBC Camps is one of the largest overnight basketball programs in the world located in 16 states and 6 countries. Since 1971, NBC Camps has been on a mission to help athletes be stronger on and off the court. For more information about NBC Camps, please visit their website at http://www.nbccamps.com.
About US Sports Camps
US Sports Camps (USSC), headquartered in San Rafael, California, is America's largest sports camp network and the licensed operator of Nike Sports Camps. The company has offered summer camps since 1975 with the same mission that defines it today: to shape a lifelong enjoyment of athletics through high quality sports education and skill enhancement.