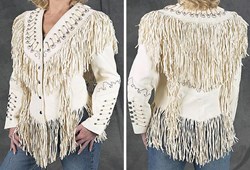 Cincinnati, OH (PRWEB) October 24, 2013
As the colder months approach, Liberty Wear Apparel, an apparel manufacturer of women's and men's clothing dedicated to changing the landscape of the American retail industry, highlights its premium collection of outerwear.
The Liberty Wear outerwear collection features a variety of jackets for women and men with decorative detailing including unique stitching and fringe. Each piece of clothing is crafted from quality materials to create an exceptional look. Unlike numerous apparel designers, Liberty Wear does not sacrifice warmth for style. The jackets are heavy duty, ideal for those seeking protection from the cold. The jackets are also a top choice of bikers in need of sturdy outerwear to safeguard them in the case of an accident. Fringe is extremely popular on the fashion scene particular in fall months. Magazines are filled with handbags, fashion tops, vests, boots and jackets with fringe detailing. Liberty Wear has adapted this trend to each unique style in its outerwear collection.
Although small, Liberty Wear is a diverse group utilizing their innovative thinking to create a premium line of American Made apparel to compete with the "big boys" in the retail industry. Liberty Wear's philosophy is simple, "Study the market, determine what the big companies are doing wrong, and correct it," says Tammy Jackson, owner. "Sure, the main thing retailers look for is products that consumers want to buy, but there is so much more to it than that."
Sales are already on the climb and the customer base continues to grow daily. "We intend to keep doing what's working and convenient for our customers," says Jackson. "American Made apparel, great Midwest customer service, and treating our customers like the friends they are, which means they can always get a hold of us."
About Liberty Wear:
Liberty Wear is an American owned and operated small business located in Ohio. Liberty Wear offers the highest quality, fashion forward, American Made apparel at wholesale prices to retailers. Liberty Wear clothing produces a variety of western clothing for women and men including women's graphic tees, fashion tops, outerwear, and leather accessories. Liberty Wear is available in a wide range of sizes that are cut with American specs. To learn more about liberty wear please visit http://www.liberty-wear.com.