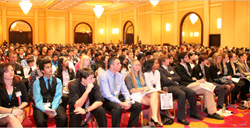 This year at Fall States across the country... JSAers demonstrated that it is more than feasible to progress beyond partisanship, and put the needs of our country first. - JSA Council of Governors Chair Tyler Pichette
Washington, DC (PRWEB) November 25, 2013
Over the past three weekends, over 5,000 students from across the nation met for the Junior State of America's (JSA) annual Fall civic learning conventions. The conventions were held in Los Angeles, Santa Clara, and Irvine, California, Tucson, Arizona, Fort Lauderdale, Florida, Iselin, New Jersey, Seattle, Washington, Cincinnati, Ohio, and Austin, Texas. This year's theme was "Progressing Beyond Partisanship: From Conflict to Compromise," which focused on the common ground between the two political parties in light of increased polarization and the recent government shutdown.
During the conventions, students debates a wide range of issues such as the ongoing civil war in Syria, the merits of the recent government shutdown, and voter ID laws. As in previous years, these conventions also had a number of national activities, such as a debate on the worthiness of College as an investment, co-sponsored by ProCon.org, and a Mock Supreme Court activity featuring the case of the town of Greece v. Galloway. "This year at Fall States across the country, JSA showed that they are molding the next generation of statesmen and stateswomen. JSAers demonstrated that it is more than feasible to progress beyond partisanship, and put the needs of our country first," said JSA Council of Governors Chair Tyler Pichette
This fall's conventions also included a number of engaging Keynotes. Among them, the Mid-Atlantic states hosted Wall Street Journal Columnist James Taranto, the Ohio River Valley State hosted Rep. Eric Wenstrup (R-OH), and the Pacific Northwest hosted Rep. Derek Kilmer (D-WA), who, in the spirit of the convention's theme, spoke about his experiences working across the aisle in Congress. In addition to the keynote address at the conventions, other members recognized JSA students by way of video messages, such as those from Sen. Rob Portman (R-OH) and Rep. Eric Swalwell (D-CA).
Though many of the fall conferences for this year have concluded, Conferences will still be held in Madison, Wisconsin and Boston, Massachusetts on the weekend of December 7-8th. For more information, visit http://jsa.org/conventions/fall-state/.
Junior State of America (JSA): Providing civic education and leadership programs for nearly 80 years, JSA is the largest student-run organization in the United States. School-year programs take place in more than 450 secondary schools in 35 states, with more than 10,000 members. The JSA program is supported by the Junior Statesmen Foundation Inc., a 501(c)(3) tax-exempt educational corporation, which provides guidance to JSA's student leaders. It has offices in San Mateo, Calif., and Washington, D.C. More information is available at http://www.jsa.org or jsa(at)jsa(dot)org.