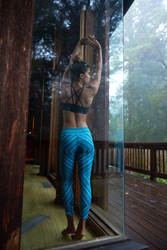 Across the Fall/Winter collection, you'll get those warm, cozy feelings, as well as 'back-to-business' looks that transition easily through Autumn months and carry forward the vibrant and soothing color palette we love so much in Spring and Summer
Carlsbad, CA (PRWEB) August 12, 2015
With prAna's new Fall and Winter 2015 collection, adventure continues, even as the season cools down. Inspired by both alpine living and a downtown lifestyle, these pieces combine fit, function, and color that will brighten even the season's greyest skies.
"This collection is exciting because we're bringing on trend designs into the mix, yet still, each one can pull double duty on the town or on the trail—and that's true to our heritage," said Ellen Krimmel, prAna's VP of design and merchandising. "We're blending 'old' with 'new' figuratively, and also literally, as we've created eye catching new fabrications through the use of recycled fibers."
For women, the collection includes the Mattea Sweater—a new style made from recycled Italian wool. With its asymmetrical hemline, raglan sleeve and drawcord neckline detail, this is a stylish, fitted sweater that is both warm and comfortable. Pulling from urban inspiration, the Brenna Pant is an edgy, slim fitting moto five-pocket style with heavy stitch details at the knees and on the back pocket. Its synthetic, bluesign® certified fabric with four-way stretch makes it great for travel and it is available in three color ways.
For men, prAna has introduced its most comfortable denim to date, the Bridger Jean. It is also the brand's first denim made from organic cotton. Blended with polyester and spandex, Bridger Jeans are soft and lightweight, with a classic five-pocket slim fit that's ready for adventure, or just as easily dressed up for the urban environment. Pair Bridgers with the Appian Sweater to complete the look—the new sweater is on trend with its dual fabrics: recycled wool through shoulders and arms, and nylon through the body. The design also creates a color block effect that adds style to this full-front zip layer, complete with pockets on the sides, and one on the chest.
"Crisp mornings, chilly evenings, and golden sunlight in between are what I look forward to as summer winds down," said Krimmel. "That's why, across the Fall/Winter collection, you'll get those warm, cozy feelings, as well as 'back-to-business' looks that transition easily through Autumn months and carry forward the vibrant and soothing color palette we love so much in Spring and Summer."
The Fall/Winter 2015 collection is available now. See the entire line in your prAna catalog or by shopping online. To learn more, please visit prAna.com.
About prAna:
prAna clothing and gear is made with intention -- that every detail - from trim and fabric to hangtags - is carefully designed to enhance our lives today while still considering the needs of tomorrow. For more than 22 years, this vision has been at the root of prAna's relationships with customers and retailers. prAna clothing is designed in Southern California with style and versatility in mind. prAna is deeply committed to mitigating the impact they have on the environment in manufacturing and selling its clothing while ensuring all products are made in safe and fair working conditions. prAna is sold in five flagship stores, online at prana.com, and in 1,400 specialty retailers across the US, Canada, Europe and Asia. prAna is one of the portfolio brands of Columbia Sportswear Company.
For a list of prAna retailers, please visit prana.com/dealer-locator.html
Find @prAna on Facebook, Twitter, Pinterest, and Instagram.