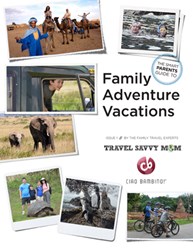 "Mutual travel adventures – and sometimes mutual travel misadventures – are the glue that holds families together when other forces try to pull them apart," says Jamie Pearson of Travel Savvy Mom.
San Francisco, California (PRWEB) January 31, 2014
For family travelers with a taste for adventure, no corner of the earth is too far away if it provides a truly memorable vacation. As families have increasingly set their sights on unique experiences, tour operators have stepped up to offer active, culturally immersive itineraries geared toward parents traveling with young children in traditionally adult-only destinations like Thailand, Morocco, Galapagos, and Costa Rica.
"It seems kind of obvious, but relationships thrive on shared experiences," says Jamie Pearson, freelance writer and publisher of the independent family travel website Travel Savvy Mom. "Mutual travel adventures – and sometimes mutual travel misadventures – are the glue that holds families together when other forces try to pull them apart."
To help families navigate the complex trip planning process, Pearson has partnered with Amie O'Shaughnessy, founder of Ciao Bambino, to publish the Smart Parents Guide to Family Adventure Vacations, a personal, practical planning tool for families who are new to adventure vacations.
"With the economy continuing to rebound, affluent families are eyeing their next big trips," says O'Shaughnessy. "While there's no shortage of information in print guides and on the web, busy people don't have time to read it all. At the same time, they are hesitant to book an expensive vacation without advice from a trusted source."
Planning Your Trip

Your First Adventure Vacation: Ready to dust off your passport and your adventure travel credentials and open your kids' eyes to the world? We'll give you some ideas to get you inspired and started.
What Makes a Great Family Trip? Even when you have experience like we do, trip planning is a really big job, and there are no shortcuts. We'll tell you six things to look for when planning a family adventure vacation.
5 Common Myths about Group Travel: Worried about the rigid schedule, the price, and the other travelers? Don't be. Group travel has come a long way. Not only that, it's fun and easy. And as traveling moms, those are words we don't throw around lightly.
Great Destinations For Families
5 Reasons Kids Love Costa Rica: When your family is ready for something more exciting than an all-inclusive vacation on a pretty strip of sand, tiny Costa Rica is a great place to start. It's got beaches, jungles, volcanoes, and wildlife, all in one pretty, safe little package.
Planning an Age-Appropriate African Safari: In the not-so-distant past, a family safari vacation was limited to families with teenagers. For reasons of safety and convenience, bush camps and guides didn't allow young children. Times have changed!
Small Ship Wilderness Cruising with Kids: Seeing Alaska, Mexico, or Hawaii by ship is one of the most relaxing and enriching ways for families to travel. And on a small ship, you get all of the adventure and convenience and none of the big ship annoyances.
The Perfect Thai Family Vacation: We're fascinated with Thailand's tigers, temples, massages, and elephants. With easy connections and a compact geography, it's actually a very civilized and easy trip with kids.
Visiting Galapagos with Kids: From the moment you touch down, there are more new experiences for families in Galapagos than there are hours in the day. We kept expecting these tiny islands to run out of surprises – they never did.
Read the full Smart Parents Guide to Family Adventure Vacations on Ciao Bambino.
#
Ciao Bambino! is a leading family travel brand and global family travel planning website featuring curated family-friendly hotel reviews and a comprehensive family travel blog offering tips, news, and narratives related to traveling with kids of all ages.
Travel Savvy Mom is an award-winning independent family travel blog that helps families find the best trips, hotels, gear, and destinations all over the world.