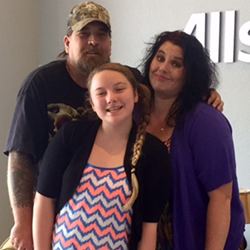 Rance and Heather are looking for support from their community, and our team is working overtime to make sure they get it.
Fort Worth, TX (PRWEB) September 15, 2015
Dixon Insurance, a locally owned insurance firm with offices serving the Dallas/Fort Worth area and surrounding communities, is launching a new charity drive to assist a local woman who is fighting to save her husband's life.
Rance Pilkington, husband and father, recently overcame a number of injuries and botched surgeries that nearly claimed his life. After bringing Rance home from the hospital, Heather noticed that her husband seemed weaker than normal and rushed him to the emergency room. Rance was found to be positive for Hepatitis C geno type 1A, a potentially lethal but curable strain of the virus.
After recent medical bills, the Pilkington family is facing significant financial difficulties and does not have the assets to cover the costs of Rance's antiviral treatment.
"Rance and Heather are looking for support from their community, and our team is working overtime to make sure they get it," says Lori Dixon, owner and manager of Dixon Insurance. "I know Rance, he's an honorable man, he's a family man, and he deserves our help and support."
Dixon and her team are making inroads with local community members, businesses, and friends as they work to gather resources that will be used to ensure that Rance receives his treatment. The team is also taking time to educate community members about the realities and dangers of hepatitis infection. Efforts are currently underway to construct an online social media page that the team hopes will bring in support from all over Texas.
As part of an ongoing community involvement campaign, Dixon Insurance is working with several other local causes and charities, and plans to do more in the future. "We're going to find a new charity or cause to support every month or two from now on," pledges Dixon.
Readers who wish to assist the Pilkington family as they raise funds for Rance's treatment are invited to view the charity page on the Dixon Insurance webpage and show their support for the cause here: http://dixon-insurance.net/A-Wifes-Mission-To-Save-Her-Husbands-Life_16_community_cause. Readers who wish to keep track of the local charities and causes supported by Dixon Insurance are invited to bookmark their Community Causes page here: http://dixon-insurance.net/community-cause.
About Dixon Insurance
As a Personal Financial Representative in Haslet, Lori Dixon knows many local families in the area. Her knowledge and understanding of the people in this community helps provide Dixon Insurance customers with an outstanding level of service. The Agency looks forward to helping families like yours protect the things that are important – family, home, car and more. Dixon Insurance can also help their clients prepare a strategy to achieve worthwhile financial goals. To contact Dixon Insurance, visit http://www.dixon-insurance.net or call 817-439-2345 to speak to a helpful and informed representative.