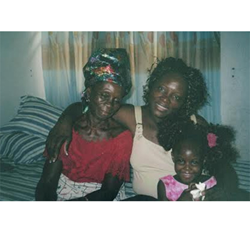 When I hear about women who stand tall and take control of their lives, my first impulse is to offer any help I can, and Chisa is a perfect example of a woman taking control of her life
Garland, TX (PRWEB) April 20, 2016
The Wickman Agency, a family managed insurance firm that provides coverage to thousands of clients throughout Dallas County and the surrounding communities, is announcing a charity event in honor of Chisa Chujor, a local woman struggling to support her family.
Chisa Chujor, a client of the Wickman Agency, is one of many women fighting to make ends meet in the Dallas area. With a husband who is unable to work, Chisa is doing the best she can to support her husband, children, and mother on her own. Chisa is a hard worker, however her family is falling behind financially and they may soon be left with nothing.
"When I hear about women who stand tall and take control of their lives, my first impulse is to offer any help I can, and Chisa is a perfect example of a woman taking control of her life" says Diana Wickman, founder and director of the Wickman Agency.
To raise awareness of Chisa's story and gather support for her cause, Wickman and her team are reaching out to local community and business leaders over email and social media. The Wickman Agency will also be producing a full page feature article discussing Chisa's charity drive in the next issue of "Our Hometown," a Dallas area webzine hosted by the firm: http://www.thewickmanagency.com/Our-Hometown-Magazine_41.
Chisa Chujor is only one of many causes that the Wickman Agency plans to support in the future. As part of an ongoing community involvement campaign, the Wickman team will be choosing and working with more Dallas area charities at the rate of one every other month.
For those interested in joining the Wickman Agency and supporting Chisa Chujor and her family in their time of need, a page is available for personal contributions: http://www.thewickmanagency.com/Helping-A-Local-Community-Member-In-Times-of-Hardship_24_community_cause. For those interested in tracking the growing list of local charities and non-profits that will be supported by the Wickman Agency in the future, the following page is available for bookmarks: http://www.thewickmanagency.com/community-cause.
About The Wickman Agency
The Wickman Agency is a full service insurance provider serving families of the northeast Dallas metro area from offices in Garland, TX, and agency owner Diana Wickman knows many local families. A deep knowledge and understanding of the people in her community ensures Diana can provide customers with an outstanding level of service. Diana and her dedicated team of professionals look forward to helping families protect the things which are most important to them – their families, homes, cars and more. They also help clients prepare strategies to achieve long-term financial goals. To contact a caring expert at the Wickman Agency, please call (972) 271-1413.