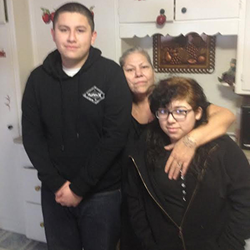 Irma is a terrific grandmother, and it's truly an honor to put together a charity drive for someone who is truly committed to providing for their family, no matter what
Green Bay, WI (PRWEB) March 15, 2016
Allcox Insurance Agency, a family owned insurance provider with offices serving Green Bay and the surrounding communities, is announcing a grassroots charity effort aimed at providing financial support to a local grandmother who is struggling to make ends meet while providing a home for her grandchildren.
Irma is working a part time job to put food on the table, but with unpaid bills from a previous surgery and day-to-day costs mounting, Irma is have a difficult time keeping a roof over the heads of her two grandchildren. Allcox Insurance Agency is dedicating time and manpower to a charity drive that will help Irma overcome her financial challenges and continue providing for her family.
"Irma is a terrific grandmother, and it's truly an honor to put together a charity drive for someone who is truly committed to providing for their family, no matter what," says Jon Allcox, founder and manager of Allcox Insurance Agency.
Allcox and his team have created a social media portfolio and are launching an email awareness program to share Irma's story and gather support from like-minded families throughout the Green Bay area and beyond. Allcox Insurance Agency will also be featuring Irma and her grandchildren in the next issue of the firm's online magazine "Our Hometown": http://www.allcoxinsurancegroup.com/Our-Hometown-Magazine_39.
Irma is only the latest recipient of support from the Allcox Insurance Agency. As part of a permanent community improvement program dubbed "Agents of Change," Allcox and his team will be finding and assisting a new Wisconsin-based charity or cause every other month.
Readers who want to join Allcox Insurance in the charity drive for Irma and her grandkids are invited to provide support directly from the following page: http://www.allcoxinsurancegroup.com/Help-Grandma-And-Her-Grandkids-In-Their-Time-Of-Need_13_community_cause. Readers who want to keep track of the new Wisconsin charities supported by the Allcox Insurance Agency are welcome to bookmark the firm's Community Causes page: http://www.allcoxinsurancegroup.com/community-cause.
About Allcox Insurance Agency
The goal of the Allcox Insurance Group is to provide unparalleled service by offering premium quality insurance protection and knowledgeable assistance in planning and managing investments, retirement accounts, and college savings plans. With an entire staff that hails from the northeastern Wisconsin, Allcox is extremely loyal to the local community and guarantees a stress-free and gratifying experience for all clients. When you deal with Allcox, expect honesty, fairness and integrity, now and in the years to come. To speak with a helpful representative from Allcox Insurance Agency, visit http://www.allcoxinsurancegroup.com/ or call (920) 498-3630.