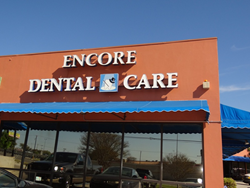 Visit your dentist every six months for healthy teeth and gums.
San Antonio, TX (PRWEB) March 20, 2014
Encore Dental Care is celebrating World Oral Health Day on Thursday, March 20. Through the end of March, Encore Dental Care will be offering free fluoride rinses for current patients who get a regular cleaning with exams and X-rays.
Encore Dental Care's deal to celebrate World Oral Health Day also allows new patients to get their first exam, X-rays and regular cleaning for only $100. The normal value is $171.
World Oral Health Day is celebrated every year on March 20. World Oral Health Day promotes awareness of oral health issues and the importance of practicing good oral health hygiene. According to the World Dental Federation, approximately 90 percent of the world's population will suffer from oral diseases at some point in their lifetime. World Oral Health Day offers a platform for dentists and others in the oral health community to take action to fight oral diseases globally.
Encore Dental Care is staying up-to-date on the latest techniques and procedures while offering the most advanced, state-of-the-art, comfortable personalized care service available. The team is led by Dr. Lilia Martinez Cyr and a staff of experienced professionals.
Find out how Encore Dental Care is committed to meeting the needs of each patient by calling 210-647-0097 or visiting http://www.encoredentalsa.com.
Dr. Lilia Martinez Cyr is a 12th generation Texan and her hometown is McAllen, TX. She graduated from the Texas Academy of Mathematics and Science at the University of North TX (Denton). She received her B.S. in Biology (Magna Cum Laude) from UT San Antonio and received her DDS from the UT Health Science Center in San Antonio with Distinctive Honors in Research.
Dr. Cyr was selected by the American Association of Oral Biologists to receive the Research in Oral Biology Award (2010) for her significant contribution to research in tooth development and the American Academy of Oral Medicine Award for 2010. She is a member of the ADA, TDA, San Antonio District Dental Society, the Academy of General Dentistry, the American Orthodontic Society, and the Academy of GP Orthodontics.