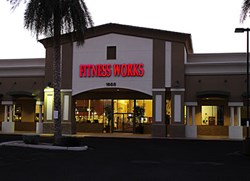 Creating The Most Enjoyable, Results Driven Atmosphere For All Ages & Fitness Levels
Mesa, Chandler, Gilbert, Phoenix Metro (PRWEB) September 30, 2013
Most people think that gym memberships are for exclusively for weight lifters and bodybuilders, but that's not the case any longer. Fitness Works Athletic Clubs is offering a fitness membership for families to lose weight & get in shape together, with fitness instruction and analysis.
The truth is that gyms contribute greatly to a person's general wellness regardless of their age, race, or body size. The fitness industry is growing rapidly as we are becoming more health conscious nowadays, and if one chooses to take the first step to obtaining better health and a better body, then Fitness Works Family gym memberships are the way to go. There are numerous benefits why we should choose to work out locally rather than at one of the bigger chains of gyms which most have heard of or seen advertisements in the media. The smaller locally owned gyms tend to be more personal and advantageous to families because it's located in the neighborhood, and the staff and other customers tend to be friendlier and helpful which leads to one feeling as if they're a part of a little community.
Attendees of Fitness Works family gyms are all there for the same reason whether it be losing, gaining or maintaining weight, achieving any sort of fitness goal, or just simply to improve all around good health. What's also a big plus is that Fitness Works family gyms don't normally pressure you into signing life-long contracts or draining your bank account until you feel completely ready and committed. Joining a local fitness gym is crucial for overall success, and frequent visits will increase motivation in the long run. Visitors will not only improve their vigor, but stress and mental anguish will melt away, too. Working out can also relax muscles and energize the brain which increases blood circulation. And, blood circulation is a proven cure for depression.
The atmosphere of Fitness Works family gym feels more relaxed, too. The employees and trainers most likely live in the same area as their clients, and could be a terrific help by suggesting shops in the area which could provide the best gear or accessories needed in order to accomplish the best workout. They may also provide a list of restaurants, markets or eateries to help personalize your diet if weight happens to be an issue or concern. In addition, Fitness Works will provide a tour of the facility to showcase equipment or classes offered, and will even assist clients by personalizing a program which will fit their lifestyle and needs accordingly. It's even important to question about hours of operation, different types of memberships and respective costs. Also, inquiring about the proximity to home and work, and special classes should be considered before joining to avoid inconvenience and discouragement.
Tips, hints and strategies will flow with ease from the workers and fellow fitness gurus alike if one makes the choice of choosing Fitness Works family gym membership. The trainers know not to take on too many clients at once in a smaller facility because they want to focus their attention on attendees. They want people to succeed and see them overcome obstacles. And, in most cases, one could even walk to the gym to get a head start on their workout. The best way to achieve individual fitness goals is to take it one day at a time. There's no hurry, and with the help of professionals at the local Fitness Works gym, they will make sure today will be a healthier day than yesterday.