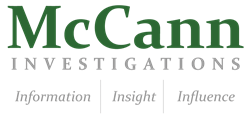 San Antonio, TX (PRWEB) April 20, 2014
McCann Investigations, a Texas-based agency that offers a range of high-quality digital security and private investigations services, announced the detailed background investigation services that it employs during divorce case investigations.
McCann uses these investigations to uncover some crucial information about a target at the beginning of a case, which sets the framework for how the rest of the case will proceed. In many cases, the investigators' findings during a background analysis paint a picture of a person that would surprise the client, revealing history of drug or alcohol abuse, child abuse, adultery and more. The presence of these factors and more greatly influences the outcome of divorce proceedings.
"We cannot understate the importance of a thorough background check if you are going through a contentious divorce," said Daniel Weiss, Managing Partner at McCann Investigations. "Depending on the evidence that our investigators uncover, the client could obtain results that drastically impact the outcome of their divorce case and ensure a bright future for them and their children."
McCann's San Antonio investigators first sit down with the client to talk about the case and to gain some initial background information about the investigation target. They then get to work on conducting research themselves, analyzing criminal records, civil issues, relationship history and anything else that could be important in a divorce case.
A lot of evidence can be found on digital devices such as computers and mobile phones, which makes digital forensics another important step in the information gathering phase. McCann's investigators use the latest technologies to uncover evidence in photos, emails, texts, social media and more.
"The processes that we use in divorce investigations make for much quicker results," said Weiss. "We understand how much our clients just want the whole process to be over with, so we do everything we can to find evidence in an efficient way that leads to a positive outcome in their case."
For more information about the services provided by McCann Investigations in the San Antonio area, visit the company's website at http://www.mccanninvestigations.com and follow the company on Twitter at @mccangi.
About McCann Investigations
McCann Investigations is a Texas-based private investigations practice focused on comprehensive investigations incorporating digital forensics, surveillance, undercover work and background checks for clients in various case types. Service areas include intellectual property theft, non-compete enforcement, fraud, embezzlement and family law. McCann Investigators are experts in the latest computer forensics tools and are licensed with the state of Texas. McCann examiners have provided expert testimony and reporting in hundreds of cases across the state.