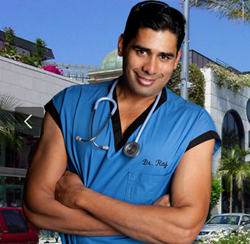 For only $18.95, the whole family receives unlimited telemedicine visits. Famous Hollywood Dr. Bal Raj used it, and it saved his daughter's life!
Los Angeles, California (PRWEB) November 16, 2015
My Personal ER is now offering unlimited, nationwide telemedicine services for only $18.95 per month. The complete service includes as many visits needed either over the phone or via webcam. With Obamacare leading to incredibly high deductibles, the service is perfect for those desiring low cost, effective treatment for the whole family. For more information and to enroll one's family, simply call 1-888-693-7121.
Being able to receive timely medical treatment from a Board Certified physician is not an easy feat, especially with a busy family life. My Personal ER offers telemedicine consultations throughout the country on a twenty four hour basis. It doesn't matter if the family is on vacation, at home or work. The providers will be available to evaluate the patient, and provide an accurate diagnosis and a personalized treatment plan.
At only $18.95 per month for the entire family, the service costs less per visit than most insurance co-pays and walk in clinic fees. If a medical prescription is necessary, it can be provided.
Dr. Bal Raj, famous Hollywood orthopedic surgeon, is a huge supporter of the service. "I'm extremely busy with patients, so when my family needs urgent medical care we turn to My Personal ER. It's an amazing service, and it's actually saved my daughter's life last year!"
Scheduling an in-person visit or waiting in an emergency room for routine medical matters is a hassle. This includes sinus infections, coughing, diarrhea, fevers, headaches, insomnia, earache, body aches, sore throat, allergies and more. The American Medical Association has reported that as many as 70% of all doctor visits are for information only, or for matters that can be handled over the phone.
My Personal ER has essentially reinvented how families may cost effectively receive healthcare. Not only is it time effective, but also great for those with high deductibles and busy lives.
To find out more about a membership with My Personal ER, call 1-888-693-7121 today and visit http://mypersonaler.com.