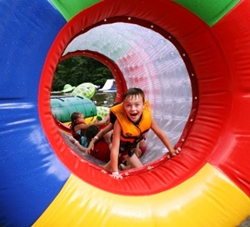 Why should kids have all the fun?
Tampa, Florida (PRWEB) April 27, 2014
No two family camp locations are the same but all guarantee family fun so expect plenty of outdoor shared activities during the daytime, with sing-a-longs and campfires at night.
The best family vacation camps, sometimes dubbed "multi generational camps", offer simple lodgings with meals included and dozens of terrific activities meant to be shared with other families at camp. In fact in many cases traditional kids' summer camp locations designate "family camp" weeks. Family camp locations vary including lodges, hotel rooms, cottages, cabins, and sometimes tent cabins with no electricity. Some provide private baths while others offer shared bathhouses.
Just as varied as the sleeping spots the activities define the experience. From banana boat rides and sailing classes to performing arts and studio families can easily have fun together. Family camp experiences make it easy to achieve a sense of community sharing family fun with multiple generations.
"Just like the kids version, family vacation camps provide ways to socialize with other families and share unique bonding experiences with new friends. For many it is an economical way to getaway, have fun together, and mom does not have to cook or clean up," according to Nancy Nelson-Duac, Curator of the Good Stuff for the popular vacation planning website - http://www.theFamilyTravelFiles.com. She posits the question, "Why should kids have all the fun?"
Family camp locations span the country and theFamilyTravelFiles.com has identified more than 30 terrific locations where summer family fun is the main plan. The best family vacation camps include unique experiences to be shared with kids. For example:

Kingsley Pines Family Vacation Camp in Maine - Hiking, canoeing, and banana boats.
Camp Lake Hubert's Family Camp in Minnesota - Bingo, campfires, and skit night.
Ace Adventure Resort Camp in West Virginia – Whitewater, rock climbing, and lake activities.
US Space & Rocket Center Family Vacation Space Camp in Alabama - Real science, an anti-gravity experience, and Family Aviation Challenge®.
Latgawa Shakespeare Camp for Families in Oregon – Ashland Shakespeare Festival, campfire stories, and a Rogue River trip.
To browse the full selection of family vacation camps go to the Camp Out folder featured at theFamilyTravelFiles.com
About theFamilyTravelFiles.com. Founded in 1998, theFamilyTravelFiles.com is one of America's top-rated online family travel resources offering more than 1000 pages of timely family vacation ideas. The website features ideas for family vacation experiences which combine family fun and learning. Popular folders include Water Spots, Camp Out, Dino Trips, Ren Faires, Green Spots, and Secret Places.