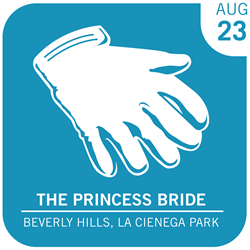 This is going to be a fun family night out with a classic comedy. We're so excited to have Cary Elwes join us for our third annual screening of The Princess Bride.
Los Angeles, CA (PRWEB) August 19, 2014
Eat|See|Hear is hosting a family friendly event in Los Angeles on Saturday, August 23 at La Cienega Park in Beverly Hills, CA. The evening event begins at 5:30 p.m. In addition to the movie, "The Princess Bride" Eat|See|Hear will have many of LA's best food trucks on site throughout the evening and a live performance by local band Dark Furs at 7:00 p.m. The film will be introduced by actor Cary Elwes, who starred in the film as Westley, Buttercup's main love interest. He has written a book about the making of the film, called "As You Wish," which will be released this October.
The park is located at 8400 Gregory Way in Beverly Hills. Limited free parking is available at the Tennis Center across the street from the park and there is also street parking available.
Based on a novel of the same name, "The Princess Bride" is a 1987 comedy fantasy adventure movie directed by Rob Reiner and starring Fred Savage, best known for his role as Kevin Arnold on "The Wonder Years." The movie will be projected on the largest outdoor movie screen west of the Mississippi and will begin at 8:30 p.m.
Food trucks on location for this event will include Flat Iron, Border Grill, Komodo, Smokin' Willie's BBQ, Mangia Ristorante, Hurricane Kitchen, Trailer Park Truck, Roll'n Lobster, Tokyo Doggie Style, Mighty Boba, Street Kitchen, B Sweet, Coolhaus, Brasil Kiss and more.
"This is going to be a fun family night out with a classic comedy. We're so excited that Cary Elwes is joining us for our 3rd annual screening of this film," said Sharon Sperber, executive producer of Eat|See|Hear. "This event is dog friendly and we love making new four-legged friends, so it is truly an event for the entire family can enjoy."
Tickets are available for purchase online at Eventbrite for $10. General admission tickets for children aged 5-12 is $8 and any children under age 5 will receive free admission.
About Eat|See|Hear:
Eat|See|Hear is LA's premier outdoor movie, food truck and live music event series that brings an evening of fun to Los Angeles-area communities each summer. The third annual series is presented by SHOWTIME, featuring up-and-coming bands from the local music scene, the hottest food trucks, and the only 3-story high, 52-foot wide inflatable movie screen west of the Mississippi with the highest quality HD-projection and digital surround sound. Eat|See|Hear is produced by LA-based Trailhead Marketing, Inc. with audio-visual provided by Hollywood Outdoor Movies. For more information about the third annual Eat|See|Hear summer event series, consumers are encouraged to visit the Eat|See|Hear website at http://www.eatseehear.com, as well as the Eat|See|Hear Facebook page, Twitter feed (@EatSeeHear) and Instagram (@EatSeeHear) for the latest updates.