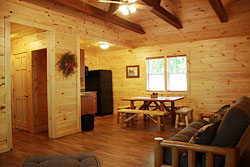 Providing overnight retreats and outdoor team building activities for over 30 years in Lancaster County, PA.
Lancaster, PA (PRWEB) March 17, 2015
Refreshing Mountain, in Ephrata, PA, is excited to announce the completion of the Cabin Construction Project. This 3 year project has added over 17,000 sq. feet of lodging and meeting space, and capacity for an additional 104 guests at the camp and conference center, bringing the total capacity at Refreshing Mountain to approximately 500 overnight guests. Each cabin has two bedrooms, a living room and kitchen and sleeps 6-8 guests. There are 13 cabins built in close proximity to each other. All are located near Refreshing Mountain's seven conference rooms. Each cabin has a finished pine interior and Amish-crafted furniture. Close to 14 lineal miles of pine boards were used during construction.
The cabins were built to enable Refreshing Mountain to host smaller groups for retreats. They can be rented individually or in small clusters, accommodating groups as small as four people or as large as 100 people. The cabins were meant to provide a restive atmosphere for groups and individuals. Numerous landscaping features have been included in the planning of the area, including flower gardens, campfire areas, and circled benches, creating a restorative and rejuvenating area for guests.
Individual Rentals
Each cabin can be rented separately for a family, group of friends, or individual. Meals can be prepared in the cabin or purchased at the Refreshing Mountain dining hall. Guests of the Refreshing Mountain Cabins can enjoy hiking trails, fishing, swimming and various sports facilities that are located on site. Guests who are looking for more adventure can purchase tickets to the renowned Refreshing Mountain Ziplines: 12 ziplines over 1 mile in length that soar above the retreat center.
Group Rentals
Large groups looking for a getaway will find an ideal option in the Refreshing Mountain Cabins. Conference room and meal pricing plans are included when three or more cabins are rented by a group. Additionally, over 20 different teambuilding and outdoor activities are offered to groups, including 12 Ziplines, Paintball, Geocaching, and much more.
For more information about group or individual cabin rentals, please contact Justin at 888-353-1490 x 125 or visit http://www.refreshingmountain.com.
Refreshing Mountain is a premier year-round adventure and retreat destination in Lancaster County, Pennsylvania. Designed to create more than just recreational activities, Refreshing Mountain provides clean, comfortable and safe facilities for guests to feel truly refreshed.