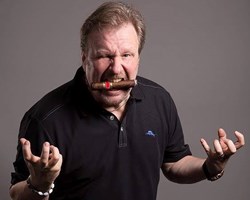 Cigar blogs are a great source of information for cigar enthusiasts to learn more about the hobby.
Easton, PA (PRWEB) January 26, 2014
Famous Smoke Shop is an online distributor of discount premium cigars specializing in offering the web's widest cigar selection, best prices, and expert customer service. The company started in 1939 with a Manhattan-based retail tobacco shop, later on expanding to offer a mail order catalog, and subsequently their website as the technology allowed for the expansion. The company began a cigar blog in 2010, providing readers with cigar reviews, news, how-tos, advice, and a variety of other cigar-related info. After a brief hiatus, Famous has re-launched the blog site as the Famous Cigar Blog, and featuring a new design and new content, with much more to come in the future.
Cigar blogs are a great source of information for cigar enthusiasts to learn more about the hobby. New smokers can get expert advice on basic topics like how to smoke a cigar, how to light a cigar, and how to store their cigars. Experienced enthusiasts can learn about more advanced smoking tricks and read cigar reviews of the newest, hottest, most popular, and rarest cigar brands.
Famous Smoke Shop boasts a staff of extremely knowledgeable cigar lovers who will be sharing their expertise with readers via this blog. The "Welcome Back" post was written by Famous Brand Ambassador Tommy "ZMan" Zarzecki, and explains in detail the mission behind the new blog. Another new post features Famous Senior Copywriter Gary Korb's Davidoff Nicaragua cigar review. Korb gives readers his opinion on this new and highly acclaimed cigar.
Famous Smoke Shop has stated that they'll be updating the blog frequently with new content on a wide variety of cigar-related topics. With such a wide variety of authors and topics, the Famous Cigar Blog promises to offer value to anyone with an interest in cigars and cigar smoking.
People interested in learning more about Famous Smoke Shop or the Famous Cigar Blog should visit Famous-Smoke.com.
About Famous Smoke Shop
Famous Smoke Shop is the nation's #1 discount retailer of premium cigars online, offering one of the largest selections of handmade cigars, machine-made cigars, cigar humidors and accessories. Famous offers the web's lowest prices on a wide selection of cigar brands including Acid, Davidoff, Macanudo, Romeo y Julieta, Ashton, Padron, Oliva and Perdomo cigars, and many more. Famous offers their customers the best prices on all premium cigars as well as friendly and knowledgeable customer service.