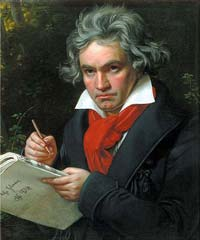 (PRWEB) March 30, 2014
The newly published FamousComposers.org presents some of the most gifted music writers of all times. The website seeks to be the one-stop archive for those who need to research or acquire more information on their favourite music composers. The website launched after having been a work in progress for a while.
Upon visiting the site, the reader is presented with a chart of the most famous composers. Each composer is highlighted by a painting or picture of him as well as a summary. Visitors will be able to view the entire roster of famous composers, read a little bit about each one, and then if they wish to learn more about a particular composer, they could click on that composer. Within the picture of each of the famous composers' is a link to the composer's individual page. Upon entering a composer's individual blog entry, such as Wolfgang Mozart, readers can find a detailed biography of him, including his birthday, nationality, and musical styles. These pages touch upon facts and information that are not popularly known and are quite interesting.
"We wanted to build a site that featured all the famous composers in one place," the publisher said. "I looked everywhere and could not find a site that had more than a top 10 or top 100 list. I wanted to learn more than the names of famous composers. I wanted to know what they were like and how they lived their lives. How did they become such great composers? No one had a complete site, so I figured I should be the one to make that perfect website."
The creator also spoke of limitations to his list, being that composers represent a very specific kind of music. As a lover of music, he acknowledged the fact that there are more types of music out there than just instrumental. "You know what, I know it's a large world of music out there. I wish I could include everything. Maybe one day I will achieve that, but for now, I just want to focus on one step at a time."
Indeed composing represents a very specific genre of music. Composers are trained in a system of musical writing that has been associated with the development of Western society. Its system of notation is rooted in logic, that each musical note is represented by a specific symbol. Throughout history this system has been the basis of classical, jazz, and other forms of traditional music, which was what the creator of Famous Composers was referring to. It really is all semantics. For instance, in popular and folk music, the composer is known as a songwriter.
Even though it is quite new, the website is very dedicated to the art that is created by famous composers of the world. It is quickly becoming a leading resource on the Internet with increasing visitor traffic every day. The publisher's vision is sure to continue to expand in the near future.