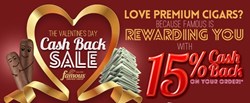 To celebrate the Valentine's Day holiday, Famous Smoke Shop is offering a site-wide sale giving smokers 15% off orders over $125, applicable to almost any item in their wide selection of premium cigars and accessories
Easton, PA (PRWEB) February 04, 2014
Famous Smoke Shop is the nation's #1 discount retailer of online cigars, providing smokers with the web's best cigar selection, expert customer service, competitive pricing, and a wide variety of special offers and ways to buy cigars. As a customer-oriented company, Famous Smoke Shop frequently sends sales, cigar discounts, and coupons via e-mail, Facebook, Twitter, printed catalogs, and other channels to their customer base.
To celebrate the Valentine's Day holiday, Famous Smoke Shop is offering a site-wide sale giving smokers 15% off orders over $125, applicable to almost any item in their wide selection of premium cigars and accessories. While Valentine's Day is traditionally a holiday focused on gifts for women, male-oriented gifts are also quite popular, and cigars are very popular and well-received gifts for men.
To launch their Valentine's Day Cigar Sale, Famous Smoke Shop recorded a promotional video featuring their Brand Spokesman Tommy "ZMan" Zarzecki preaching the benefits of cigars as a Valentine's gift. The coupon code needed to activate this special discount is found at the end of the promotional video.
This sale is currently active, and is valid through February 14. Due to manufacturer pricing restrictions, some items are excluded from the offer. A full list of excluded items is available on the company's website.
People interested in learning more about Famous Smoke Shop or their Valentine's Day Cigar Sale should visit Famous-smoke.com or call 800-564-2846.
About Famous Smoke Shop
Famous Smoke Shop is the nation's #1 discount retailer of premium cigars online, offering one of the largest selections of handmade cigars, machine-made cigars, cigar humidors and accessories. Famous offers the web's lowest prices on a wide selection of cigar brands including Acid, Davidoff, Macanudo, Romeo y Julieta, Ashton, Padron, Oliva and Perdomo cigars, and many more. Famous offers their customers the best prices on all premium cigars as well as friendly and knowledgeable customer service.