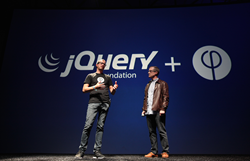 "Famo.us is breaking new ground for web technologies. The jQuery Foundation is excited to welcome Famo.us into a stewardship role for jQuery and look forward to shaping the future of the web together.
San Francisco, CA (PRWEB) January 15, 2015
Famo.us, the JavaScript framework for building beautiful, high-performance web and mobile UIs, is pleased to announce that it has become a Founding Member of the jQuery Foundation. Famo.us joins Wordpress and IBM as Founding Members. The partnership is designed to bring together jQuery's ease of use with the power and beauty of the Famo.us framework. Famo.us has committed capital and a dedicated team over three years to support the jQuery Foundation's mission of improving the open web and making it accessible to everyone.
jQuery is the most ubiquitous library on the web. It is used by more than 68 million websites and over 60% of the top 100,000 sites worldwide.
Famo.us will work with the jQuery Foundation and its community to create high-quality jQuery widgets for mobile and desktop powered by Famo.us technology. jQuery plugins like carousels, photo viewers, lightboxes, slideshows, and so on will get 3D layout, 3D physics, and WebGL support and will run using responsive design across all devices. Both Famo.us and the jQuery Foundation will work to find ways for web developers to discover high-quality plugins and widgets that they can be confident will be supported over the long run. The two organizations will also collaborate on community-building efforts, events, and education initiatives.
All Famo.us widgets will be made available as jQuery plugins. In addition, Famo.us will take an active role in providing leadership and future direction within the jQuery plugin developer community. Famo.us and the jQuery Foundation are working together closely to bring the two communities together and are currently planning a mid-2015 developer event in San Francisco.
"Famo.us is breaking new ground for web and mobile technologies," says Dave Methvin, president of the jQuery Foundation. "We are excited to welcome Famo.us into a stewardship role for jQuery and look forward to shaping the future of the web together."
Additionally, Famo.us co-founder and CEO Steve Newcomb is joining the jQuery Foundation board of directors. "Without jQuery, many of us would not be web developers today," says Newcomb. "We are extremely proud to support the jQuery ecosystem and help a new generation of developers easily utilize technology, such as webGL and 3D physics, in building a more rich and beautiful web."
The investor community has responded enthusiastically about the partnership. "Famo.us and jQuery are a natural match—they share the mission of making beautiful web and mobile UIs something that's within reach for every developer," says prominent investor Jerry Murdock. "Together, the two organizations will raise the bar for elegance and simplicity on the web."
"This is a high-impact partnership that brings the beauty of native-level user interfaces to the entire web developer community," says Jed Katz, managing director of Javelin Venture Partners. "Combining the ease of use and accessibility of jQuery with the power and beauty of Famo.us is a magical combination that could benefit every Bootstrap developer out there."
Developers interested in learning more can visit http://famo.us or http://jquery.org. To sign up for notifications about the upcoming 2015 jQuery developer event in San Francisco, visit http://partners.famo.us/jquery.
About Famo.us
Famo.us is a free, open source JavaScript platform that enables engineers to build beautiful, cross-platform web apps. It is the only framework that provides an open source 3D layout engine fully integrated with a 3D physics-based animation engine that can render to DOM, Canvas, or WebGL.
Famo.us provides extensive free training, examples, and tutorials through Famo.us University. This live coding environment allows students to see their code rendered in real time and work through topics at their own pace.
Founded in 2011 and headquartered in San Francisco, Famo.us is led by Steve Newcomb, who is best known for founding Powerset, which was sold to Microsoft and is now part of Bing. Investors include Insight Partners, Javelin Venture Partners, and many of the most prominent entrepreneurs in Silicon Valley. For more information, visit http://famo.us.
About the jQuery Foundation
Created in 2012, the jQuery Foundation is a 501(c)(6) non-profit organization dedicated to supporting the needs of web developers. It provides development support and documentation for popular libraries such as jQuery which is used by more than half of the top one million web sites. Additionally, the jQuery Foundation promotes developer education through conferences and events worldwide.
Projects hosted by the jQuery Foundation are open source with liberal licensing, free to use without ever having to worry about royalties. The Foundation encourages the adoption of open standards and implements tools to help developers apply those standards. Foundation projects aspire to give everyone, regardless of their circumstances, access to the web.
The jQuery Foundation advocates for web developer issues by participating in the web standards process, through its memberships in the World Wide Web Consortium (W3C) and ECMA TC39 (JavaScript). It also collaborates with key companies in the industry, such as service providers, browser makers, and framework developers, to improve the web development process. For more information, visit http://jquery.org.