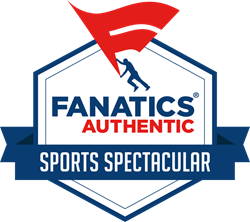 As a city with a rich sports tradition, we're proud to bring the Fanatics Authentic Sports Spectacular back to Chicago and host a celebration of 100 years of historic baseball memories at Wrigley Field among other athletic icons.
Fort Lauderdale, FL (PRWEB) June 17, 2014
Fanatics Authentic, the premier destination for authentic signed sports memorabilia, will return to Chicago with its series of sports collectibles shows called the Fanatics Authentic Sports Spectacular for the second time this year. An experience unlike any other, the Fanatics Authentic Sports Spectacular brings some of the biggest names in sports and fans of all ages together for one epic event. With the chance to meet professional athletes, pose for unique photo-ops, and witness the creation of personalized collectibles, Chicago sports fans are in for a real treat with the upcoming Fanatics Authentic show.
From June 27th until June 29th, the Fanatics Authentic Sports Spectacular will provide sports fans in Chicago with three action-packed days of events featuring star athletes on the rise to historic Hall of Fame legends. Featuring a salute to the 100th Anniversary of Wrigley Field, members of the 2014 NFL rookie class, and former NBA champions, athletes from across all major leagues, including the NFL, MLB, NBA, and NHL, will be in attendance at the Fanatics Authentic show. With headliners, Cam Newton, Tony Parker, Bo Jackson, and Greg Maddux, fans of all sports will be able to meet some of the top athletes in the game. On Friday, June 27th, the Fanatics Authentic Sports Spectacular will celebrate a century of baseball memories with appearances by over 25 former members of the Chicago Cubs, including Hall of Famer Andre Dawson and "Mr. Cub" Ernie Banks. The show also boasts a lineup that contains incoming NFL rookies, Blake Bortles, Michael Sam, Kyle Fuller and Aaron McDonald, as well as Super Bowl XLVIII Champion, Percy Harvin, and Chicago Bulls legend, Dennis Rodman.
Every athlete scheduled to attend will be available for various autograph sessions and photo opportunities throughout the weekend, giving sports fans the rare chance to get up close and personal with all of their sports heroes. In order to accommodate a variety of fans and collectors, the Fanatics Authentic Sports Spectacular provides an assortment of ticket options. Each day, general admission is just $10 for adults and $7 for children ten and under, while ages three and under are free. For avid sports fans and dedicated collectors, an available $99 VIP package includes an express line pass that reduces wait time, daily admission with a half an hour early bird admission each day, sports memorabilia giveaways, free 1974 NL MVP Steve Garvey autograph ticket, and a special Fanatics VIP gift bag. Admission tickets are available for pre-order online or can be purchased at the event, as are autograph, inscription, and photo-op tickets at various price points based on each athlete. Every piece of autographed sports memorabilia is fully certified authentic and backed by the Fanatics Authentic authenticity guarantee, plus PSA/DNA and JSA will be on-site authenticating signatures.
"As a city with a rich sports tradition, we're proud to bring the Fanatics Authentic Sports Spectacular back to Chicago and host a celebration of 100 years of historic baseball memories at Wrigley Field among other athletic icons," Ross Tannenbaum, President of Fanatics Authentic. "Our last show in Chicago was a huge success, and we look forward to spending another exciting weekend creating memories for local sports fans to cherish for a lifetime."
The Chicago Fanatics Authentic Sports Spectacular will be held at the Donald E. Stephens Convention Center, located at 5555 N. River Road, Rosemont, IL 60018. Fans can order autograph tickets, general admission tickets and VIP packages in advance at http://www.FanaticsAuthenticShows.com or purchase at the event.
About Fanatics Authentic:
Fanatics Authentic, the premier online destination for authentic autographed collectibles, is the new memorabilia division of Fanatics, Inc. As the nation's largest online retailer of officially licensed sports products, Fanatics provides sports fans with the ultimate shopping experience via its brands, including Fanatics, Fanatics Authentic, and FansEdge. The company powers the online shops for all major professional sports leagues, like MLB Shop and NFL Shop, as well as media brands (FOX Sports, Yahoo! Sports, CBS Sports, NBC Sports), and over 200 collegiate and professional team properties. Fanatics also possesses official league licenses from the MLB, NFL, NBA, MLBPA, NFLPA, NCAA Football, NASCAR, CLC, PGA, NLL, and AFL.
With the support of Fanatics' unparalleled reputation as a Top 50 Internet Retailer Company, Fanatics Authentic offers sports fans a trustworthy and reliable source for authentic memorabilia. By developing exclusive athlete relationships with many of the top athletes in sports, including David Ortiz, Colin Kaepernick, Peyton Manning, Adrian Peterson, and Paul George, Fanatics Authentic boasts a product offering unlike any other manufacturer. Due to a large distribution network, Fanatics Authentic provides fast shipping to sports fans nationwide, and is on the ground leading the way for product procurement to deliver 100% authentic items in hot markets and more.
Fanatics Authentic is proud to partake in exclusive game-used relationships with professional teams, providing fans and collectors access to same-day, game-used merchandise. These rare products are acquired by an expert member of the staff and authenticated onsite. In addition, the Company has an in-venue division that retails merchandise throughout stadiums nationwide. The Fanatics Authentic headquarters is located in Sunrise, Florida. Its new 175,000 square foot facility is home to a premier custom framing, manufacturing, and engraving operation that is focused on delivering the highest quality products in memorabilia. For more information, visit: http://www.FanaticsAuthentic.com.