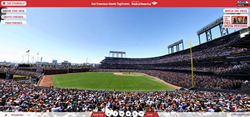 Fancam provides a way for fans to connect their own event experience with the larger fan community through social media.
Indianapolis, IN (PRWEB) May 30, 2014
Using gigapixel technology as a fan engagement tool is fast becoming the norm at large sporting events.
In the past week alone high profile events such as the Coca-Cola 600 (Charlotte), several IPL matches (India), the UEFA Champions League Final (Lisbon), and the San Francisco Giants home series against the Chicago Cubs have embraced the technology to add to the game day experience of fans.
The images are of such high quality that fans can zoom in and find themselves, where ever the sat or stood. The ability to tag and share their positions through social networks provides fans with the perfect tool, not only to relive the event, but to prove to their friends that they we part of it.
The images have become so popular and successful that brands have taken note and have started integrating the technology into their sponsorships and marketing campaigns.
Coca-Cola celebrated the 55th running of the Coca-Cola 600 and supported both their own Coca-Cola Racing Family and the USO's Every Moment Counts campaign with a gigapixel image called the Coca-Cola 600 Fancam.
Similarly Bank of America integrated their #troopthanks initiative into a branded gigapixel image at a San Francisco Giants game on Memorial Day.
Tinus le Roux, CEO of Fancam, a leading provider of gigapixel technology, says his team has seen growing interest across a wide range of sports verticals, with the growth driven by sponsors, teams and leagues alike.
"As more sports marketers adopt content-focused and fan-centric strategies, tools like Fancam are a natural choice," says Le Roux.
"They create an environment where fans want to spend time and are happy to interact with branded content."
About Fancam:
Fancam is the global leader in large crowd gigapixel photography and has captured more than 12 million fans on 6 continents with its technology.
Past events captured include the U2 360º Tour, Stanley Cup Finals, Super Bowl, NCAA Final Four, Rose Bowl, Cotton Bowl, UEFA Champions League Final and more.
Visit http://www.fancam.com for more information.